(CNN) -- Pele has denied saying that Manchester City striker Robinho had taken drugs.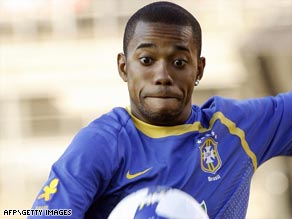 Pele's alleged quotes about striker Robinho (above) have caused a sensation in Brazil.
The Brazilian legend was quoted as saying that Robinho and former world footballer of the year Ronaldo used recreational drugs at a private party in Sao Paolo.
The comments have caused a sensation in Brazil, where Ronaldo is still revered and Pele's word is taken as gospel, and led to Robinho's representatives demanding an official retraction.
However, Pele insists he said no such thing. "Robinho is our son and left Santos with our supervision," he told TV Globo.
Don't Miss
"What happened was a misunderstanding because I never said anything like that, they gave him wrong information.
"I know what the people who need to sell newspapers are like. When there's a story like this you need to ask for the recording to hear what was really said."
Football Fanzone
Football fans, the chance to have YOUR say on CNN is here!


Pele's advisor went into further detail about the exact nature of the misunderstanding. "There's nothing to this, Pele never said that Robinho had problems with drugs," he told Terra.com.
"His answer was distorted. Pele was asked about problems in football, and said that the problems are few compared to other sports.
"He said that in football only Maradona, Ronaldo and Robinho had really had problems, but he never talked about drugs at any moment."
E-mail to a friend