(CNN) -- Ledley King quit England's squad on Tuesday after Tottenham manager Harry Redknapp hit out at international counterpart Fabio Capello for picking his injury-prone defender in the first place.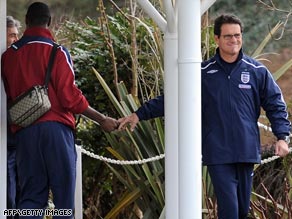 England coach Fabio Capello appears reluctant to let go of top-rated Tottenham defender Ledley King.
Central defender King was recalled for Saturday's friendly international against Slovakia and next week's World Cup qualifier with Ukraine, both at Wembley.
The 28-year-old is unable to train with Premier League Spurs between matches because of a chronic knee problem and was an unexpected inclusion in England's 24-man squad.
"Ledley hardly trains and has to be nursed through every week," Redknapp told Tuesday's edition of the Sun. "I really can't see the sense in this.
"It's pointless. If he plays against Ukraine there is no way he can play on (the following) Saturday against Blackburn."
Capello clearly took note and shook hands with King before heading out to train -- leaving Football Association officials to break the news.
"Ledley King has returned to Spurs Lodge to continue his rehabilitation over the course of the international break, following discussions and assessments overnight by the medical staff of both the club and the England national team," the FA statement said.
"It has been agreed by both parties that the best interests of the player are served by continuing his individual training program at the club and he will play no further part in England's preparations or participate in the friendly against Slovakia or the World Cup qualifier against Ukraine."
Manchester City winger Shaun Wright-Phillips (back) and Portsmouth striker Peter Crouch (calf) also sat out Tuesday's session at Arsenal's London Colney training ground but neither of their injuries were considered serious.
It is understood the defender will discuss the England issue with his advisors next week, with the last of his 19 international appearances coming against Estonia in Tallinn in June 2007.
In-form midfielder Steven Gerrard still hopes King would be available if needed for the World Cup finals in South Africa next year.
"Ability-wise Ledley King is certainly good enough to be in a World Cup squad," Gerrard said.
"We're keeping our fingers crossed that when the World Cup squad is picked he is fit and available for selection.
"Ledley is obviously very highly-thought of by the club and also by the country so it is no surprise that both want him fit and both want him available. He's a fantastic player."
Gerrard was speaking at an England news conference after scoring the first Premier League hat-trick of his career in the 5-0 win over Aston Villa.
"It's been a fantastic two weeks at club level but I've got to put that aside now and focus totally on these two games," he said. "Certainly after two wins for England I would be smiling going back to Liverpool."
Gerrard added: "I'm really happy with the way I'm playing and need to say a big thank you to the Liverpool players. It's down to them the way I'm playing and I need to try to take that into the next two England games."
Manchester City winger Shaun Wright-Phillips had a sore back and missed the first day of training ahead of the Slovakia and Ukraine matches, while Portsmouth striker Peter Crouch went for a precautionary scan on a tight calf.
E-mail to a friend