(CNN) -- Manchester United striker Dimitar Berbatov has been ruled out of Bulgaria's forthcoming World Cup qualifiers against Republic of Ireland and Cyprus with an ankle injury.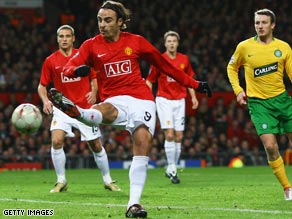 Berbatov's injury absence is a desperate blow for Bulgaria's World Cup ambitions.
The Bulgaria captain suffered the injury in his club's 2-0 defeat to Fulham on Saturday when he was substituted at half-time.
"There's no chance of Berbatov playing against Ireland and Cyprus," said Bulgaria team doctor Mihail Iliev. "The injury will prevent any kind of football-related activity for the next two weeks.
"I have talked to the Manchester United medical staff and I am expecting a fax with the details of the medical scans.
"We are talking about a muscle tear, which means his foot will be immovable for two weeks. It is most likely that he aggravated his old ankle injury."
It is a big blow for Bulgaria coach Stanimir Stoilov, who is already without Manchester City winger Martin Petrov and Leicester defender Alexandar Tunchev.
Bulgaria, who are third in Group Eight with only three points from three games, play at Croke Park on March 28 before playing Cyprus at home four days later.
Berbatov's injury will also be a worry to United coach Alex Ferguson, with fellow striker Wayne Rooney facing a one-match suspension following his red card.
E-mail to a friend