(CNN) -- A Liverpool court dropped an assault charge against English football star Steven Gerrard for a nightclub brawl in December but ordered him to appear at trial next month, a court spokeswoman said Friday.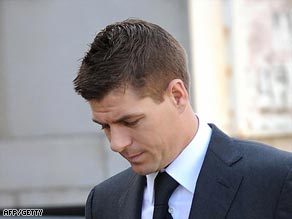 Gerrard arrives at North Sefton Magistrates Court on Friday.
England international Gerrard, who plays for Liverpool in the Premier League, still faces a charge of affray for the brawl, said Joe-Ann Forrest, a spokeswoman for North Sefton Magistrates Court in Liverpool.
He will go on trial on April 3 along with six other men involved in the incident, she said.
If he is found guilty of the affray charge, Gerrard faces a maximum penalty of six months in jail and a fine of $7,200.
The alleged brawl happened in late December after Liverpool's win over Newcastle, a game in which Gerrard scored two goals to keep his team top of the English Premier League.
Football Fanzone
Football fans, the chance to have YOUR say on CNN is here!


The charges were seen as out of character for Gerrard, who is widely acknowledged as a model professional and not associated with the unruly behavior of some other star football players.
The 28-year-old midfielder is one of the most celebrated players in Liverpool's history.
In 2005 he lifted the European Cup -- the club's fifth -- after a thrilling penalty shooting victory over AC Milan and his performances this season have helped maintain their challenge to Premier League champions Manchester United in the English title race.
He also starred as Liverpool thrashed Spanish giants 5-0 in their Champions League last 16 tie to earn a quarterfinal clash with Chelsea in the draw made on Friday, shortly after he appeared in court.
E-mail to a friend