(CNN) -- The English Football Association has written to Hull City asking for their version of events, after manager Phil Brown accused Arsenal captain Cesc Fabregas of spitting at his assistant Brian Horton.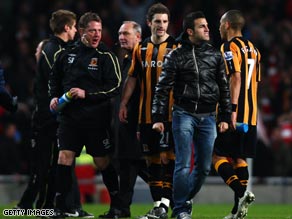 Fabregas (black jacket) has been accused by Hull of spitting at the feet of Brian Horton (third left).
Brown claims to have witnessed Fabregas -- who categorically denies the allegations -- spitting at Horton in the tunnel after his side were controversially beaten 2-1 by a late goal from William Gallas, which they claimed was offside, in their FA Cup quarterfinal on Tuesday.
Neither referee Mike Riley nor any of the other match officials mentioned anything of such an incident in their report.
The League Managers Association confirmed on Wednesday that they had been contacted by Horton, adding: "As the incidents fall firmly within the jurisdiction of the Football Association, who are making their investigations in the prescribed manner, neither the LMA nor Brian Horton will be making any further comment at this time".
Brown, meanwhile, remains unrepentant in the ferocity of his criticism of Fabregas, who was not playing in the match as he has still not fully recovered from a knee injury.
Speaking to BBC Radio Five Live, the Hull manager said: "The pictures in the national papers verify the aggression he was showing towards players and staff after the game.
"I could go on, but I am not one for crying over spilt milk. I then witnessed him going down the tunnel and turning around and spitting at my assistant manager's feet," added Brown
Football Fanzone
Football fans, the chance to have YOUR say on CNN is here!


"Whichever way you want to look at it, he addressed that spitting incident at my assistant manager, who has managed probably 1200 games in his career. I am not going to report it, I am not going tittle-tattling to the FA -- if they want to investigate that is their decision, and if Brian wants to take it further he will get the full support of Hull City."
Even though Fabregas was not in the Arsenal playing squad and only came onto the pitch to celebrate at full-time, the FA still maintain disciplinary jurisdiction.
However, because the alleged incident was not during normal game time, any investigation would seek submissions from all parties involved, as well as any potential television evidence, although if any confrontation occurred in the tunnel there is unlikely to be any footage.
Fabregas, however, refutes all of the allegations. "I was on the pitch at the end of the game celebrating with my team-mates, but I promise I did not do anything wrong," he said on the official Arsenal Web site.
"It was not until half-an-hour after the game that I heard what Hull were saying about me and it is not something that is easy to accept.
"I understand Hull are angry and frustrated about going out of the FA Cup. But I don't know why they are saying these things about me because it did not happen. That is the truth.
"I don't even know who the assistant manager of Hull is or what he looks like. I am told Hull will be making an official complaint to the FA about me. Well, I am perfectly relaxed about that. I have nothing to hide," added Fabregas.
E-mail to a friend