By Neale Graham
For CNN





LONDON, England (CNN) -- Michael Ballack has been promised he will be the captain of Germany provided they reach next year's World Cup.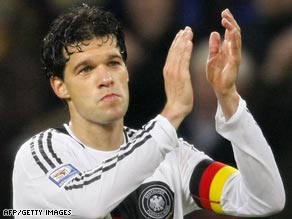 Michael Ballack has been promised the Germany captaincy for next year's World Cup in South Africa.
Coach Joachim Low has put aside any differences between him and the Chelsea star after the pair's public fall-out last year.
"If Ballack is fit he will be there as captain in 2010," Low told Germany's "Bild" newspaper.
"Of course it was a very strong conflict with Michael. But we live in football, not in some holy world. You will always have conflicts."
On the face of it, Germany's most recognizable player and fulcrum of their midfield is a no-brainer to lead the team out at South Africa 2010.
What makes a player the right choice for captain? Have your say in the Sound Off box below.
And his form for Chelsea, while never hitting the heights he has achieved on the international stage where he has scored 39 goals in 90 games, has improved in recent months.
But should a coach nail down who his captain will be more than a year from the tournament. Ballack might be fit in 2010 but approaching 34 will he still warrant selection?
Football Fanzone
Football fans, the chance to have YOUR say on CNN is here!


Diego Maradona's arrival as coach of Argentina saw him choose Javier Mascherano as captain, a decision that makes more obvious sense than Low's long-term promise to Ballack.
Maradona's choice made sense given Mascherano's age (he will turn 26, days before next year's finals), his position (defensive midfield) and his performance history (there are few more consistent players around).
Coaches often feel the need to choose their captain and stick by them through thick and thin, as if removing the armband would reflect badly on both manager and player.
After lengthy deliberation and speculation, new England coach Fabio Capello chose John Terry to be his captain last August. Yet the Chelsea center-back's form has been up and down this season and it's debatable whether he is still the commanding presence at both ends of the pitch that he was a few years ago.
Despite this, and the fact that, unlike Ballack, Terry saves his best displays for Chelsea, Capello must stick by his man, almost regardless of the form of his captain or any potential English replacement.
In many other cases, the captain is simply the best player in the team, even if he might not necessarily have the necessary leadership skills.
E-mail to a friend