By Neale Graham
For CNN





LONDON, England (CNN) -- Remember when there was talk of a European super league, where the top teams from across Europe would play each other on a weekly basis?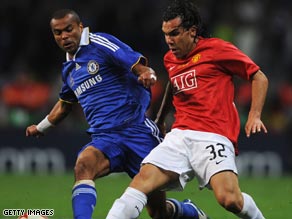 Two English teams -- Chelsea and Manchester United -- contested the 2008 Champions League final.
You don't hear anything about that breakaway tournament now, possibly because it already exists -- in the shape of the English Premier League.
If there was any doubt the Premier League is now the best, it was swept away when all four of its teams -- Liverpool, Arsenal, Manchester United and Chelsea -- progressed to make up half the Champions League quarter-finalists.
It would be a huge surprise for at least one English club not to make it to the final for the fifth season running.
Do you agree that the Champions League is now a playground for the English teams? Tell us in the Sound Off box below.
All four English clubs showed the characteristics required to be successful, characteristics that used to be the preserve of their continental rivals.
After dominating the goalless first leg in Milan, Manchester United were below their best but still saw off Jose Mourinho's runaway Serie A leaders Internazionale 2-0 in the Old Trafford return.
Chelsea had ground out slender 1-0 lead at home two weeks ago, but even with the handicap of going away in the second leg they scored twice to dump Juventus out 3-2 on aggregate.
Arsenal might have lost 1-0 on the night to Roma (who, let's not forget, were routed 7-1 by Manchester United in 2007) at the Stadio Olimpico, they showed guts and nerve to put the Italians out on penalties.
And Liverpool, in stark contrast to their domestic displays, blew nine-time champions Real Madrid away at their Anfield home to progress 5-0 on aggregate. The 4-0 defeat on Merseyside was Los Blancos' worst in their Champions League history.
Football Fanzone
Football fans, the chance to have YOUR say on CNN is here!


And perhaps it is Liverpool's thumping win that most signals the changing of the guard. OK, there are no Italian sides in the quarter-finals for the first time since 2002, but Serie A has been on the slide for a while.
When people ask which league is best, Spain's La Liga is always held up as the place of fabulous technique and of quality teams from top to bottom.
But while a stylish Barcelona look like the only team who could deny England another European Cup winner, Madrid's demise was especially sad.
Toothless in the first leg in the Bernabeu, they were destroyed by a Liverpool side who seldom get the chance to swagger like that, even when faced with even the most mediocre of Premier League opposition.
Madrid's egos made them believe they were still the galacticos, that they could go away from home and out-play a Liverpool side whose recent record in Europe is bettered by virtually no one.
Times have changed, though, and Real, Inter, Roma and the rest of Europe's biggest names need to realize the days of them being the bully boys in the Champions League are over.
They need to play like the underdogs and if that means trying to stop English teams playing by sticking 10 men behind the ball and looking to nick something at the other end, then so be it.
The best players are now in England, so the continent's top teams must adapt their tactics and their mindsets to try to compete.
The alternative is further seasons of early exits, soul searching and dreams of yesteryear.
E-mail to a friend