(CNN) -- David Beckham has cemented his commitment to football in the United States by confirming that he plans to buy a franchise in Major League Soccer when he quits playing.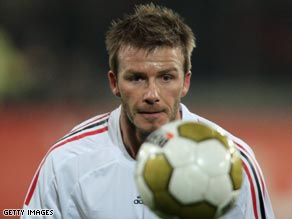 Superstar Beckham plans to buy a franchise in Major League Soccer when he hangs up his boots.
Beckham is currently impressing in Italy with AC Milan after the Serie A giants concluded a 'timeshare' agreement with U.S. club LA Galaxy for the England midfield star.
Milan originally took Beckham on a two-month loan, but have now secured his services until the end of the campaign when he will rejoin Galaxy for the rest of the U.S. season.
"I think soccer in America can one day become very important, and one day, when I retire, I would like to buy a team in Major League Soccer," he told Gazzetta dello Sport.
"I want to contribute to the development of soccer in the United States. It is one thing that really excites me and besides that, my family is happy in Los Angeles."
Beckham agreed a multi-million pound package when he left Real Madrid for the U.S. and the 33-year-old also has an option to become an MLS club owner.
Ambitious Beckham has other goals in mind before that happens including winning a place in England's World Cup plans for next year's finals in South Africa.
He also told Gazzetta: "I would like to end this (Serie A) tournament helping Milan qualify for the Champions League, which is in the club's DNA.
"Milan belongs to the Champions League. And I also hope to be a part of it myself.
"People ask how I will be able to play at Milan and in Galaxy. I have never feared work, and then I will have a long four-week holiday and another break in December.
Don't Miss
"Therefore, when I return (to Milan) in January (2010), I will be in top form. This is why the agreement is perfect."
AC Milan club administrator Adriano Galliani praised Beckham for his willingness to give up a "mountain of money" to stay at the club.
"All players express their affection for a club, but few have showed it in a tangible manner by renouncing a mountain of money. Beckham is one of these," said Galliani.
As for the 33-year-old, he believes his decision to remain at the Rossoneri answers those critics that saw his arrival to Milan back in January as a publicity stunt for Beckham and the Italian club.
"I have done many good things in my career," said Beckham."I have played in great clubs and I am happy to remain at Milan.
"My career is only based on the pitch, people speak of the money that I have earned, but I have never seen it as a money issue, only football, and I hope I have proved this."
Football Fanzone
Football fans, the chance to have YOUR say on CNN is here!


Beckham equalled England's outfield appearance record in February when he matched Bobby Moore's record of 108 caps, with a substitute outing against Spain.
He says a big part of his motivation to continue playing for Milan is his sense of "duty" with respect to playing for England at the next World Cup finals.
"I am playing in one of the best clubs with the best players in the world," he said of Milan.
"I want to play also to have a chance to play in the World Cup, I think I have the duty to do everything possible to be called by Fabio Capello. Everyone knows how much I would like to play for my country."
E-mail to a friend