(CNN) -- Diego Forlan dented Real Madrid's title challenge on Saturday when he earned city rivals Atletico a 1-1 draw at the Bernabeu -- allowing Barcelona to extend their Primera Liga lead to six points.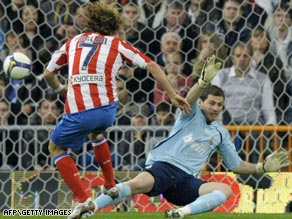 Diego Forlan fires the goal that brought an end to Real Madrid's 10-macth La Liga winning streak.
Barcelona took advantage of Real's slip with a 2-0 win over Athletic Bilbao having seen their original 12-point gap cut to just four following a draw and two defeats.
Sergio Busquets opened the scoring at the Nou Camp in the 18th minute and Leo Messi added a second from the penalty spot just after the half-hour mark.
Forlan, who a week ago helped Atletico beat Barca 4-3, opened the scoring after 38 minutes against Teal before Klaas-Jan Huntelaar levelled 12 minutes into the second half.
Real defender Fabio Cannavaro has urged team-mates not to dwell on the draw and focus on their attempts to overturn a 1-0 first leg deficit in Tuesday`s crucial Champions League clash at Liverpool.
Real went into the Atletico derby on the back of a 10-match winning streak in La Liga, and were lucky to draw after a disjointed display.
"We have to get our form back quickly because on Tuesday we cannot fail. We have to play as a team and quickly forget this game," said Italian World Cup winner Cannavaro.
"We've not played well (against Atletico), but at times, after winning 10 successive games and before a match as important as the Liverpool one, these things can happen.
"You always need to be optimistic, and more so in football because anything can happen."
Dutchman Arjen Robben, who had a couple of opportunities to put Real ahead early on against Atletico, added on his club's Web site: "We wanted to win this game to pick up another win, but the most important thing is not to fade, to continue fighting, work hard and now we will focus on Tuesday's game.
"Against Liverpool it will be a very important game for Real Madrid. On Tuesday we will have to work very hard once again. Every game until the end of the season is a 'final'."
Espanyol slipped a step closer to relegation as they went down 1-0 at Villarreal where Fabricio Fuentes scored the only goal of the game after 20 minutes.
E-mail to a friend