(CNN) -- Lionel Messi is ready to follow the example of fellow-superstar Kaka and resist any mega-money attempts to prise him away from Spanish giants Barcelona.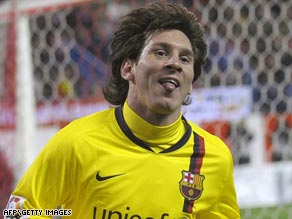 Messi will be ready with his response if Manchester City make an expected summer inquiry.
AC Milan's Brazilian striker Kaka could have earned $750,000 per week had he said 'yes' to Manchester City -- who offered his Italian employees a staggering $147 million to acquire his services.
Premier League City are being bankrolled by Sheikh Mansour's Abu-Dhabi investment group and Argentine international Messi reportedly tops their end-of-season target list.
City enticed Kaka's international team-mate Robinho from Real Madrid, but 21-year-old Messi, who began in Barca's youth team nine years ago, insists he has no wish to leave the Catalan giants.
"If it were up to me, I would stay at Barcelona until I finish my career," Messi told Portuguese newspaper Publico. "I will stay as long as they want me and no club can persuade me to do the opposite."
Milan fans staged a series of protests when City made their approach for the devoutly religious Kaka during the January transfer window. "To have gone to Manchester City could have been a great project but in the past few days I have prayed a lot to understand what the right team would be and in the end I have decided to remain here," he said at the time.
Football Fanzone
Football fans, the chance to have YOUR say on CNN is here!


"I don't want anything else, I just want to be well and be happy in the place where people love me."
Barca fans adore Messi who this week fired the club into their first domestic cup final for 11 years. He is also leading their bid for the Primera Liga crown in a season that could finally bring him FIFA's World Player of the Year accolade.
He has finished runner-up to Kaka and Manchester United's Cristiano Ronaldo the past two years, but says his main goal is to help his club win trophies.
"I never think about personal recognition," he said. "For me, it is more important to think about Barca, to win titles. It would be good, but I'm not obsessed about it.
"I am lucky, I live by my passion and there are a lot of people who work, doing what they don't like and are badly paid for that...every day I feel thankful for the luck that I have and for the opportunity to play with the the team-mates I have at Barca and in the international side."
Messi added: "Of course it doesn't bother me at all that I didn't win (the Player of the Year award) this year. I've always said he (Ronaldo) was a brilliant player.
"His instincts are out of this world. Until you see him on the pitch, you don't realise what a physical presence he has."
He conceded: "It is good to be recognised but it will depend on the titles Barca wins. Cristiano won the Champions League and the English league last season and that's why he deserved to be recognised."
E-mail to a friend