LONDON, England (CNN) -- Juventus coach Claudio Ranieri, is at the center of a race row after comments he made following his side's Coppa Italia defeat to Lazio.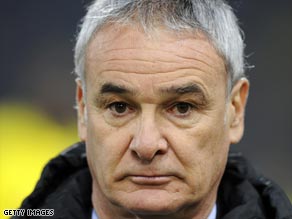 Ranieri says he "didn't intend to offend any Chinese people" following his comments this week.
Ranieri said after Tuesday's loss: "I did not like the entire direction of the match. I found the official was tough with us, on the field it seemed as if he was Chinese, as it was always yellow cards with us," football web site Goal.com reported.
The comments led China's largest sport newspaper, Titan, to demand an apology from the former Chelsea manager -- who is already under pressure with his side facing tough second leg matches after losses in the Champions League and Coppa Italia, as well as trailing Inter Milan by seven points in Serie A.
Ranieri attempted to clarify his comments to Titan on Thursday, saying he didn't mean to cause any offense. "Juventus played in China in the past, and I know the performance of Chinese referees. They are strict and respect the rules of FIFA. They blow their whistles for all fouls.
"Recently, the referees in Serie A have tended to follow the example set by the English Premier League and blow for fouls less and less," Goal.com reported Ranieri as saying.
Ranieri told the newspaper he actually prefers the Chinese style -- despite his initial comments.
"I don't like it (the English style). Juventus have many games at the moment and we need more protection.
"But against Lazio, the referee changed and blew his whistle for all fouls and gave yellow cards. So I said he was like a Chinese referee. I didn't complain about him," he said.
"I will repeat my opinion -- I don't like the English Premier League style. I hope that referees will be stricter and give my players more protection.
"I didn't intend to offend any Chinese people. I like China very much and the people very much. China is a great country."
E-mail to a friend