LONDON, England (CNN) -- Are Sir Alex Ferguson's men are still favorites to take the Premier League and win the five big trophies after their 4-1 loss to Liverpool at the weekend?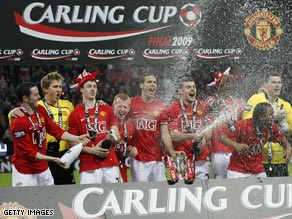 Two down, three to go? Do you think Manchester United can complete a domestic and European clean sweep?
It was the Red Devils' penalty shootout victory over Tottenham Hotspur in the Carling Cup final that raised the possibility that the England club could win the five 'big' trophies this season.
United won 4-1 on penalties in the match at Wembley, which ended 0-0 at the end of extra time.
The Red Devils are the reigning champions in the FIFA Club World Cup, European Champions League and English Premier League competitions, but the possibility is now real that Sir Alex Ferguson's men could win all of these again this year -- as well as the FA Cup -- to produce the clean sweep of results.
Do you think Manchester United can win the Premier League, Champions League and FA Cup to add to the FIFA Club World Cup and Carling Cup? Tell us in the Sound Off box below.
After the Carling Cup victory, Sir Alex Ferguson would not be drawn on his hopes for the five-trophy sweep.
"Well, we could have done without extra time because we have a tough game on Wednesday, but the league and Champions League remain a priority for us," he told Sky Sports.
The Red Devils are, however, well-placed to achieve the feat at this stage. They sit seven points clear at the top of the English Premier League with a game in hand, they're into the quarter-finals of the FA Cup, and they are in a good position going into the second leg of their final 16 Champions League tie with Inter Milan.
E-mail to a friend