(CNN) -- Chelsea coach Guus Hiddink refuses to accept that Manchester United's charge to another Premier League title triumph is a foregone conclusion.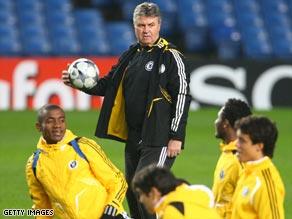 Coach Hiddink wants Chelsea to keep winning and then hope that United drop some title points.
United are seven points clear of rivals Chelsea and Liverpool with a game in hand, but the gap should be cut to four by the time Alex Ferguson takes United to Newcastle on Wednesday.
Liverpool are at home to Sunderland and Chelsea go to Portsmouth on Tuesday -- and Dutchman Hiddink said: "I am not naive. United have a very good squad, but as long as there is a possibility, you never know."
Chelsea reclaimed second place at the weekend with a last-gasp home win over Wigan and Hiddink admitted that "realistically, it will be difficult" to overhaul United who are chasing a five-trophy haul this season.
He added: "I like a team that does not give up. I liked the way the team reacted against Wigan after we conceded the goal, and that is just like I see the championship as well. We have to go as long as it is possible."
World club champions United shaded Tottenham on penalties at Wembley on Sunday to lift the English League Cup and they are also still in the Champions League and FA Cup.
Russia national supremo Hiddink has won all his matches since taking charge of Chelsea until the end of the season following the recent departure of Luiz Felipe Scolari.
"We have the ambition to go and be 'at the top' at the end of the May, so we have to stop them," he said. "What I see is that the players are disciplined and committed to what we want to do."
Liverpool's shock weekend defeat at Middlesbrough brought them down to earth with a bang just days after a memorable Champions League first leg win away to Real Madrid.
That left the Reds with just one win in seven league games and Benitez now has to lift a side that should be buzzing.
"We have talked about the mistakes we made (at Middlesbrough) and the future," said Benitez who is in contract discussions with the club's U.S. owners.
"The immediate future is playing Sunderland, trying to get three points and then waiting to see what happens with Manchester United.
"The title was difficult before, it is more difficult now. What we have to do is take our chances, and that is something that has been the same problem the whole season."
Liverpool are again without Spain striker Fernando Torres while Benitez allowed Republic of Ireland marksman Robbie Keane to return to Tottenham.
"Maybe if Torres had not been injured so much things would be different, but we cannot change the situation now. Everybody has players who get injured.
"The worst thing has been the injuries to Torres. He has been our main striker and scored a lot of goals for us last season. And this season could have been totally different with him."
Football Fanzone
Football fans, the chance to have YOUR say on CNN is here!


He added: "It is not fair to expect young players to come in and change games, that is when you need your more important players to bring something more to the side.
"We must keep going in the title race, to try to win each game as it comes along.
"Now we have the opportunity against Sunderland to do things right, to be able to approach the Real Madrid second leg next week with confidence. We have to remain positive.
"We have learned we must be more clinical, to finish games when you have chances.
"But we played with anxiety at Middlesbrough, we gave the ball away too easily with simple passes. These are things we have to improve if we are going to fight for the title."
E-mail to a friend