(CNN) -- Liverpool have confirmed that chief executive Rick Parry will leave his position with the Premier League club at the end of the season.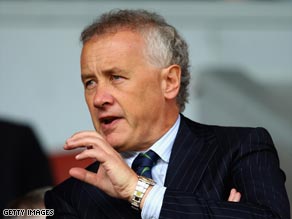 Parry is leaving Liverpool at the end of the season after 12 years with the club.
Parry's situation has become increasingly unstable in the last few months as a result of boardroom divides between American co-owners George Gillett and Tom Hicks.
A statement from Hicks on the club's official Web site read: "Rick's commitment to Liverpool Football Club is epitomised by his desire to ensure that this transitional period is managed efficiently and we are grateful to him for his help. He will always remain a friend of the football club."
Parry, 54, made no mention of the ongoing feuds as he confirmed the end of his long association with the club.
Last April he was asked to resign by Hicks in a move he branded "offensive" and has had to compete with the American forming a "shadow executive" led by commercial director Ian Ayre and finance director Steve Nash, who operate out of a city center office away from Anfield.
Football Fanzone
Football fans, the chance to have YOUR say on CNN is here!


"I have had 12 very exciting years at Liverpool and am extremely proud of what has been achieved by the club over that period," Parry told Liverpoolfc.tv.
"The victory in Madrid was a wonderful reminder of the many high points we have experienced and adds to the moments that make Liverpool and its magnificent fans so special.
"It has been a privilege to serve the club and as a lifelong supporter I wish the owners, manager Rafa Benitez, the players and the wonderful staff all the very best for the future.
"I will be leaving at the end of the season knowing that the club remains strong and with a set of supporters who deserve success in all that Liverpool does."
E-mail to a friend