(CNN) -- Guus Hiddink promises a performance full of "energy and passion" on his home 'debut' as Chelsea coach against Juventus in the Champions League on Wednesday.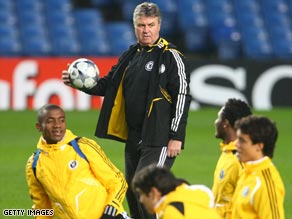 Coach Hiddink promises there will be no slacking when Chelsea face Juventus in their Champions League clash.
Russian national coach Hiddink agreed to additionally take charge of stuttering Chelsea until the end of the campaign -- and he started with a win at Premier League rivals Aston Villa.
Hiddink admits he is racing against the clock to ensure his coaching methods bring some tangible reward as Chelsea bid for glory in Europe and the FA Cup, and also ensure Champions League action next campaign.
Chelsea face the second-placed Serie A side,managed by former Blues boss Claudio Ranieri in the first leg of their last-16 tie and Hiddink will not accept the lack of preparation time as an excuse for failure.
"I should have two, three or four weeks to observe the team and everything, and then I'd start working," he told PA Sport.
"But there's no time. That's not an aspect of top-level sport, to offer excuses. It has to be done in the moment against Villa and what we have now, home and away, against Juventus.
"Every manager would like four, five or six weeks to implement a lot of things. But I have to do that in a reduced time, a pressured time. But we have to do it.
"I'd like to underline, we must not give ourselves an excuse because, if we do, there's a tendency that we go a little bit less and that's not good in the boys' minds."
Hiddink took PSV Eindhoven to victory in the final of the European Cup in 1988 and later to the last four of the Champions League in 2005.
But he is relishing the new challenge of European football with Chelsea.
"You are among the elite clubs if you're still in the Champions League after the winter," said Hiddink. "That's where a club like this needs to be. It's a very exciting competition for all of us.
"Being in charge for the first time is special. We had a good first game at Villa, so that takes away a little bit of the first excitement.
"But being in this competition with this home crowd, I think everyone can expect a lot from the team in the way of energy and passion."
But he admitted Ranieri will not make it easy for his former club.
"He's (Ranieri) a gentleman coach," said Hiddink. "He's very intelligent. Modest is maybe not the word, but he knows how to cope with the press and the pressure in this particular job. I respect him very much.
Football Fanzone
Football fans, the chance to have YOUR say on CNN is here!


"He has several abilities. When he was working here, he made a team that was very competitive for the Premier League.
"Secondly, recently, he's very good at organising his team. His teams show themselves to have enormous tactical discipline. It's very difficult to play those teams that he is managing."
Rafael van der Vaart has been recalled to the Real Madrid squad for their last-16 first leg against Liverpool at the Bernabeu.
The Dutch playmaker is the only addition to the 18-man squad that thrashed Real Betis 6-1 in the Primera Liga at the weekend, with Van der Vaart's compatriot Klaas Jan Huntelaar the man to drop out.
Huntelaar, who scored twice against Betis, is ineligible to play in the Champions League as Madrid were only able to register one of their two winter signings who had already appeared in European action this season.
The former Ajax man missed out in favor of ex-Portsmouth midfielder Lassana Diarra.
Liverpool manager Rafael Benitez included Steven Gerrard in his 20-man squad, but has yet to decide whether or not to risk him following hamstring trouble.
"Steven was not fit to face Manchester City on Sunday, but we will now wait to see how he does in two training sessions before making a decision about this game," said Benitez.
"It will not be a gamble. If the doctor says he is okay, then it is not a risk. Steven is more mature now, he would not make a decision that would be considered a risk.
"He will be involved in light training sessions, we will not try to hide anything. We will make a decision when we are sure.
"Gerrard knows he must give something to the team, and if he cannot do that he will know he is not ready. I can trust Steven on that."
Bayern Munich go to Sporting Lisbon and Villarreal are at home to Panathinaikos in Wednesday's other Champions League action.
E-mail to a friend