LONDON, England (CNN) -- After an almost flawless 2008, Manchester United have once again established themselves as the team to beat in 2009.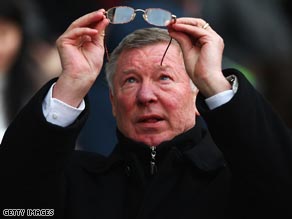 Victory in sight? Do you think Manchester United will win this season's Premier League?
Wednesday's 3-0 Premier League win over Fulham extended their unbeaten streak in the competition to 14 matches. In that time, they haven't conceded a goal.
Perhaps more significantly, the victory also puts them five points clear of nearest rivals Liverpool.
Do you think any of the chasing teams can catch Manchester United? Or are the Red Devils on course for yet another Premier League title under the direction of Sir Alex Ferguson? Tell us what you think in the Sound Off box below.
In terms of other contenders, Aston Villa are eight points adrift of the Red Devils, and Chelsea are now ten points back. Arsenal, meanwhile, would need some sort of miracle, as they sit 15 points back from the leaders.
The Manchester side do have to face Liverpool and Aston Villa in the next two months but, with other league fixtures against Fulham, Blackburn, Sunderland, Wigan and Tottenham, they could well have the trophy secured by May.
E-mail to a friend