(CNN) -- Didier Drogba shares Nicolas Anelka's belief that the duo can fire Chelsea's trophy charge under caretaker-manager Guus Hiddink.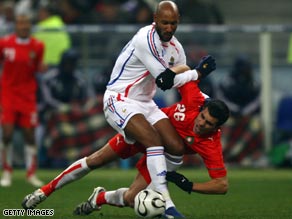 Anelka, above, believes he can help form a formidable strike force for Chelsea alongside Drogba.
Dutchman Hiddink is combining the Chelsea job with that of Russian national coach and will be at the helm for the first time in Saturday's critical Premier League clash at Aston Villa.
Hiddink's predecessor at Stamford Bridge, Brazil World Cup-winner Luiz Felipe Scolari, started only one match with Drogba and Anelka in tandem.
At Watford last weekend Hiddink was in the stands to watch Anelka hit a hat-trick in a 3-1 win that also saw Drogba in the line-up.
Ivorian Drogba hopes that will be a sign of things to come and be given the chance to re-establish his starting credentials.
"I hope so. The important thing for me now is simply to be on the pitch," Drogba told French sports newspaper L'Equipe. "It is up to me to show that I deserve to be on the pitch. I hadn't lost my instincts, I just lacked matches."
Drogba added: "When you are sidelined for four months like I was, and then you return and get injured again, it isn't easy.
"If you want to improve your condition, it is better to be on the pitch. Training is all well and good but playing for 90 minutes is better."
Anelka enthused: "Of course we can work as a partnership for Chelsea. The last 20 minutes (against Watford) was good because a lot of people said we couldn't play together, but we never really tried to play together."
"It was me scoring this time, but it might be Didier next time. That's good for Chelsea."
Drogba added: "There is something between us. We are both quite intelligent players who know how to play together and create spaces for one another.
"It is a long time since he scored and then he scores three, three real striker's goals. I hope that will provide him with a boost, because the team needs him."
Hiddink insisted when he arrived in London that the title was not out of Chelsea's reach despite falling far off the pace set by Manchester United -- and he also has the Champions League and FA Cup in his sights.
E-mail to a friend