(CNN) -- David Beckham will rejoin LA Galaxy after his bid to remain with AC Milan fell over, according to a statement on the U.S. side's Web site.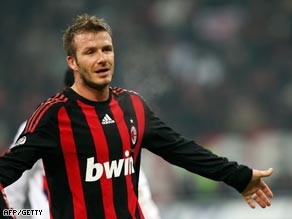 David Beckham has become a crowd favorite at the Rossoneri but he could be returning to LA.
Beckham had indicated he wanted to stay with the Italian giants -- where he is currently on loan till March 9 -- and the club had reciprocated by saying they were keen on holding on to the 33-year-old.
However, Galaxy general manager Bruce Arena said in a statement that the deal had fallen over after Milan failed to raise their offer.
"(The) deadline imposed by Major League Soccer commissioner Don Garber regarding a resolution of David Beckham's potential transfer to AC Milan has passed and we did not receive an acceptable offer for the player.
"As a result, David remains an LA Galaxy player and we look forward to having him back with the club starting March 9," Arena said.
But later on Saturday Milan coach Carlo Ancelotti said he remained hopeful a deal could still be completed.
Speaking ahead of their derby clash with Inter Milan on Sunday, Ancelotti told Press Association that he hoped the former England captain would play in many more such matches.
"At the moment he is indispensable for Milan," he said.
"We still have 20 days to close the deal. The Galaxy are trying to force the situation but there is still time until March 9."
Beckham turned to AC Milan as he sought competitive match action to regain his place in the England squad under new coach Fabio Capello.
Beckham's multi-million dollar move to the MLS from Real Madrid in 2007 captured global headlines, but injury and then indifferent results from his Galaxy team encouraged media reports that the former England captain would abandon the U.S. experiment.
Beckham has a five-year $125 million deal with Galaxy and a series of complex sponsorship arrangements.
E-mail to a friend