Neale Graham
For CNN





LONDON, England (CNN) -- Would you be offended if your boss got your name wrong? Maybe. Would you want to leave your job? Maybe not.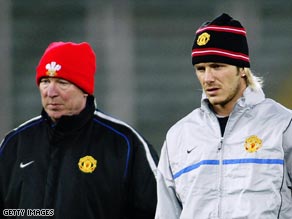 Manchester United boss Sir Alex Ferguson gave David Beckham the boot after a defeat to Arsenal in 2003.
But if you're already unhappy, like Charles N'Zogbia, being called "Insomnia" by a no-nonsense and unapologetic Joe Kinnear was the last straw.
The winger got his wish to leave Newcastle granted in the January transfer window by moving to Wigan, prompting a war of words between the pair.
"When you hear the manager say something like this about you, then you know he doesn't respect you," said the Frenchman. "If he doesn't respect you, what's the point of playing for him?
Newcastle's veteran boss hit back at the 22-year-old, who had refused to play for the club again under Kinnear, for "living in a fantasy land."
"There was not a day when he didn't have some Mickey Mouse story about a club that wanted him," Kinnear said.
"First it was Arsenal, then Manchester United, then Real Madrid, then Aston Villa and Lyon. I think he needed bringing down to earth and I can assure you nobody tried to stop him going."
The N'Zogbia-Kinnear feud is the latest in a long line of players and managers falling out at club level. Football Fanzone picks out some of most memorable from the last 10 years.
Do you agree with our selection? Have your say in the Sound Off box.
Davor Suker vs John Toshack, 1999
Suker had been the World Cup's leading scorer for Croatia in 1998 and was still one of Europe's top marksmen when he had his falling-out with Real Madrid boss Toshack. Reports suggested Suker had been highly critical of Toshack, particularly the Welshman's transfer dealings at the Bernabeu. The club suspended him without pay. Suker conducted a strange clear-the-air-by-blaming-the-media press conference, throughout which he referred to himself in the third person. But he had signed his own death warrant at Real and was sold to Arsenal in the summer of 1999.
Alan Shearer vs Ruud Gullit, 1999
More often than not, when a manager's relationship with a player breaks down irreparably it's the player who loses out. Not when the club is Newcastle and the player is Alan Shearer. Gullit had arrived at Newcastle promising "sexy football" but his team weren't even able to flirt with good results. When Gullit dropped Shearer for the local derby with rivals Sunderland, it was considered a bold decision; when Sunderland ended up winning the game, it was considered a stupid one. Shearer, loved by the Toon fans, was going nowhere and made his feelings about the dreadlocked Dutch coach clear. Gullit was sacked shortly after, but still found time to criticize Shearer, saying: "I told him to his face he was the most overrated player I have ever seen."
Jaap Stam vs Sir Alex Ferguson, 2001
Stam had proved himself to be one of Europe's top center-backs, with three Premier League titles and a European Cup in his three years at Manchester United. But an ill-advised autobiography in the summer of 2001, from which dressing room secrets and criticisms of the Neville brothers emerged, enraged Ferguson. Stam might have been indispensable to the Old Trafford faithful, but not the combustible Scot who promptly sold the Dutchman in the autumn to Lazio. United shipped goals thereafter.
Robbie Fowler vs Gerard Houllier, 2002
Football Fanzone
Football fans, the chance to have YOUR say on CNN is here!


The seeds of Fowler's 2002 exit from Liverpool were sown three years earlier in the infamous 'line-sniffing' goal celebration, which left Houllier irate. The Frenchman had already broken the club's transfer record for Emile Heskey to partner Michael Owen in attack, leaving fans' favorite Fowler as the odd one out. Player and manager had already been at odds over team selection when Fowler was left out of the squad for the start of the 2001-02 Premiership season after kicking a ball at assistant manager Phil Thompson during training. Fowler, becalmed by injuries but still a deadly finisher, eventually apologized but the damage was done and he was sold to Leeds in November 2002.
David Beckham vs Sir Alex Ferguson, 2003
Ferguson was concerned his protégé Beckham was spending too much time indulging in the celebrity lifestyle flaunted by his high-profile wife, Victoria. The England captain's Manchester United form had not dipped alarmingly but Ferguson still wielded the axe -- or, indeed, the boot. An argument between the two erupted in the Old Trafford dressing room after a defeat to arch-foes Arsenal, and Beckham took a boot in the face from a furious Ferguson. The cut forehead healed but the rift didn't and the England captain left for Real Madrid that summer.
Wayne Rooney vs David Moyes, 2006
Rooney had already secured his move away from Everton by the time he had his spat with Moyes, his former boss at Goodison Park. Rooney's 2006 autobiography revealed how he believed Moyes was jealous of his success and that the new Manchester United forward "would have gone anywhere to get away from him" -- including signing for Newcastle. Moyes took umbrage and then took Rooney to court, winning a substantial payout from the England star.
Andriy Shevchenko vs Jose Mourinho, 2007
When you're one of the world's most feared forwards and you've just been signed for an eye-watering $45m, the expectation is you'll score goals. Shevchenko, though, turned 30 shortly after arriving at Chelsea -- but played as if he'd just turned 40. Mourinho never wanted the Ukrainian in the first place (he'd been bought by club owner and Shevchenko's friend Roman Abramovich), but after months of heavy-legged displays, the goal-shy striker saw fewer and fewer first-team minutes. Mourinho lost the power struggle with Abramovich when he was sacked in September 2007, and Shevchenko didn't last much longer at Stamford Bridge.
Gordon Strachan vs Aiden McGeady, 2008
McGeady has long been one of those Celtic players you expect to be whisked away following a big-money offer. He is still there -- just. McGeady's departure from the club looked assured when he was banned from training for two weeks and heavily fined after a launching into a dressing-room tirade at Strachan. A home draw to Hearts led to Strachan tearing into the Irishman after the match and McGeady responded with personal abuse. McGeady has since returned to the Bhoys' starting XI but Scotland's player of the year and young player of the year for 2008 is drinking in the last-chance saloon at Celtic Park.
E-mail to a friend