(CNN) -- David Beckham says he wants to stay with AC Milan and end his much-publicized spell in Major League Soccer with Los Angeles Galaxy.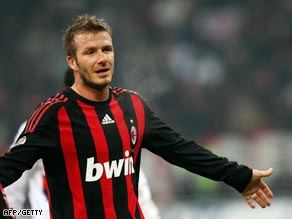 Beckham's goalscorng form has already made him a favorite at the Rossoneri.
Beckham made his admission after playing for the Serie A giants in a friendly match against Rangers in Glasgow on Wednesday.
"I have expressed my desire to stay at AC Milan now and it's just down to Milan and Los Angeles Galaxy to come to an agreement," he told reporters after playing the first half of a 2-2 draw.
"I have enjoyed my time here. I knew I would enjoy it but I didn't expect to enjoy it as much as I have."
You say: Should David Beckham stay or go?
Speculation had mounted all day after Beckham arrived in Glasgow to chaotic sences and refusing to answer earlier questions from reporters.
But Milan's general manager Adriano Galliani was more forthcoming about a possible deal.
"Beckham's lawyers are talking to the Los Angeles Galaxy who are the rightful owners of his registration," Galliani told the Press Association.
"If they show themselves to be ready to look at a deal, we would be really happy to do so.
"At the moment, there's neither optimism nor pessimism. "The player belongs to Galaxy. We wish they decide to release him, but if they don't change their minds, the player is theirs.
"We are looking to get him either on loan until the end of the season or on a permanent basis. Otherwise, with the greatest regret from everyone - starting with me - Beckham will have to go."
Beckham has made a big impression since joining the Milan giants on loan at the beginning of January, scoring two goals and on Sunday having two assists as they beat Lazio 3-0 to move into second place in Serie A behind arch-rivals Inter.
Football Fanzone
Football fans, the chance to have YOUR say on CNN is here!


The 33-year-old turned to AC Milan as he sought competitive match action to regain his place in the England squad under new coach Fabio Capello.
His loan deal was set to end on March 9, but he had already hinted in previous interviews that he was having second thoughts about returning to the United States with Galaxy.
Beckham's multi-million dollar move to the MLS from Real Madrid in 2007 captured global headlines, but injury and then indifferent results from his Galaxy team encouraged media reports that the former England captain would abandon the U.S. experiment.
Attention will now turn to the fee and compensation Milan will have to pay to secure the services of football icon Beckham, who had a five-year $125 miliion deal with Galaxy and a series of complex sponsorship arrangements.
E-mail to a friend