LONDON, England (CNN) -- Wembley Stadium has been chosen by UEFA as the venue for the 2011 Champions League final.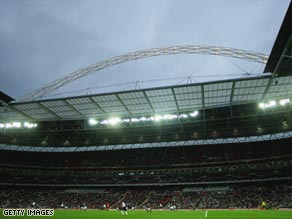 Wembley will host the Champions League final for the first time since Barcelona won the trophy in 1992.
The stadium was selected ahead of Munich's Allianz Arena and Berlin's Olympiastadion.
The decision in Wembley's favor was expected -- UEFA had previously delayed a decision on the 2011 venue specifically to allow the UK Government time to push through an exemption on tax rules for the players appearing in the final.
Meanwhile, Dublin's Lansdowne Road has been chosen as the venue for the 2011 Europa League final - the new name for the UEFA Cup.
Munich will stage the 2012 Champions League final and Bucharest's National Stadium the Europa League final in that year.
Reacting to the announcement on Wembley, English Football Association chairman Lord Triesman told the UK Press Association: "We are delighted that UEFA have chosen Wembley Stadium to stage the Champions League final in 2011.
"This is fantastic news for London and the UK and is acknowledgement of Wembley's ranking alongside the best football stadiums in the world. Wembley is a stadium for the big games and has a unique history that is sure to inspire Europe's finest players."
Football Fanzone
Football fans, the chance to have YOUR say on CNN is here!


Wembley's win is Arsenal's loss -- it had been up against Lansdowne Road for the Europa League but one nation cannot stage the finals of both competitions.
Triesman added: "As Wembley has been chosen to host the Champions League final this means the Emirates Stadium can't stage the 2011 UEFA Europa League final. I would like to take this opportunity to thank everyone at Arsenal for all their support during the bid process and recognize the very strong bid that they put together."
The final returns to the UK for the first time since 2003 when AC Milan defeated Juventus at Old Trafford, and to Wembley Stadium for the first time since 1992, when Barcelona beat Sampdoria in the European Cup Final -- the season before the competition became the Champions League.
E-mail to a friend