(CNN) -- Brazilian football star Robinho denies any wrongdoing after being interviewed by English police over allegations of a serious sexual assault.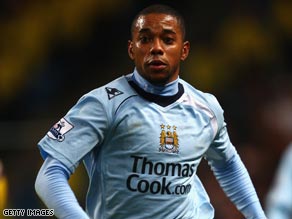 Brazilian and Manchester City star Robinho has been interviewed by English police.
Chris Nathaniel, a spokesman for Robinho, who plays for Manchester City in the Premier League, said the player denied any allegation of wrongdoing or criminality and was happy to cooperate with the police.
"We can confirm that Robinho met the police [Tuesday] as pre-arranged and as part of a criminal investigation," Nathaniel said.
"He strenuously denies any allegation of wrongdoing or criminality and is happy to cooperate with the police if required further."
The British Press Association earlier reported that West Yorkshire Police had arrested and questioned a man in connection with a serious sexual assault in a Leeds nightclub on January 14.
Robinho, 25, joined Manchester City for £32.5 million ($46 million) from the Spanish super club Real Madrid last September -- the costliest transfer deal in Premier League history.
His wages have been estimated at a staggering £160,000 per week ($229,000).
Robinho's arrival at City coincided with the club's takeover by Abu Dhabi United Group.
The Brazilian raised the ire of his manager, Mark Hughes, last week when he left the club's training camp in Tenerife and returned home to Brazil without permission.
Hughes said at the time that Robinho would face disciplinary action from the club. However, no word on his punishment for leaving the camp has yet been made public.

Later on Wednesday, City released a statement regarding the allegation. The statement read: The Club have been liaising with and assisting both the player in question and the authorities in relation to the West Yorkshire Police investigation.
"Both parties have been given the full support of the football club. No charges of any nature have been brought against the player and no further statement will be made whilst the investigation is continuing."
E-mail to a friend