(CNN) -- Andrei Arshavin's wage demands are threatening to jeopardize his planned move to Premier League Arsenal -- according to Russian club Zenit St Petersburg.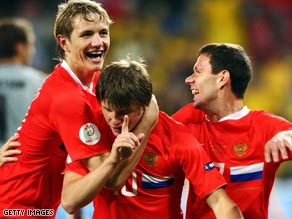 Zenit star Arshavin, center, says he is waiting for a final decision over a planned transfer to Arsenal.
Arsenal manager Arsene Wenger is keen to sign the 27-year-old playmaker before Monday's transfer deadline with Zenit claiming that "fundamental agreement" over the transfer fee has now been reached.
Zenit were originally seeking some £17 million for a player who shone at the Euro 2008 finals, but are understood to have now lowered their asking price -- with Arsenal offering around £12m.
"A fundamental understanding over the transfer of the player is achieved between the clubs," read the Zenit statement. "At the moment the basic obstacle in realisation of the transaction is Andrei Arshavin's personal requirements."
Arsenal manager Arsene Wenger disputed Zenit's interpretation of the Arshavin situation, telling PA Sport: "It is not true a fee has been agreed. We are not close to concluding any transfer; Arshavin or anybody else. At the moment it is all quiet."
Football Fanzone
Football fans, the chance to have YOUR say on CNN is here!


Arsenal go to Everton on Wednesday and Wenger added regarding the transfer speculation: "For me, it is of little interest. I can understand that when the transfer window is open, it makes headlines. I like quality football, and for me that is more important than having one more player in the squad."
Wenger added: "I am only responsible for the statements we make, but I cannot be responsible for the statements that other clubs make.
"Zenit look to have different voices coming out of the club and I am not sure if it always the official voice. I believe what I see and what I hear directly."
It is reported that Zenit have asked Arshavin to meet the shortfall in the transfer fee by making a one-off payment to his club as set out in his contract.
In turn the player and his agent are said to have told Arsenal that they will require a higher wage which Zenit admit now puts the whole deal in doubt.
Arshavin, reportedly also attracting interest from Spain, is waiting for the "final decision" over his move.
He told Russian newspaper Sport Express: "The talks don't depend on me. I haven't been in touch with the club management, so I haven't heard a clear 'yes' or 'no' yet."
E-mail to a friend