(CNN) -- David Beckham must decide whether to seek his release from Los Angeles Galaxy after AC Milan admitted they are willing to negotiate a permanent deal to sign him.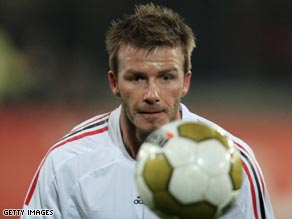 David Beckham could be gazing into a crystal ball to see whether his future lies in Italy with Milan or at LA Galaxy.
Former England captain on Sunday scored his first goal for the Serie A giants during a three-month loan that Beckham hopes can boost his chances of an international comeback.
Beckham is scheduled to return to the United States at the beginning of March for the start of the Major League Soccer season but now faces an agonizing decision.
Milan made it clear on Monday that they would be prepared to speak to Galaxy but coach Carlo Ancelotti said that the decision to stay in Italy would be "exclusively" Beckham's.
Ancelotti promised "no pressure will be made" on the player but confirmed: "Our desire is that he continues with us."
He added: "When March 9 comes and he returns to America that will sadden us because of the help he is giving his team in terms of quality of play and balance.
"He has had the ability to come in and right away have a starring role. It is all down to him, his desire and willingness to return to play in a league and in an important team."
Beckham is clearly enjoying help Milan's title bid and he would also feature in their UEFA Cup chase if he decided to stay in ItaIy.
"I can't say what will happen. My contract says that I'll be here until March. We'll have to see," said Beckham after Sunday's 4-1 win at Bologna. "At the moment I'm enjoying this experience. I'm at one of the biggest clubs in the world."
Football Fanzone
Football fans, the chance to have YOUR say on CNN is here!


Club lawyer Leandro Cantamessa explained that if Beckham wanted to stay it would have to be a permanent transfer.
"After March anything can happen," Cantamessa told television channel Skysport24. "The situation is complicated and will depend on the player, but if there was a common interest, the English player could remain at Milan, but not on loan."
Beckham's five-year U.S. contract reportedly includes a clause that he can leave in October without a fee, but any decision would need to be endorsed by wife Victoria and three children.
England are firmly on course for next year's World Cup finals in South Africa and Beckham is hoping coach Fabio Capello will recall him to the squad for next month's friendly in Spain.
Capello is expected in Italy to assess Beckham's form when Milan face Genoa in Wednesday's Serie A program.
E-mail to a friend