By James Montague
For CNN






LONDON, England (CNN) -- It is a phenomenon that the top tier of English football has seldom seen in recent years: empty seats.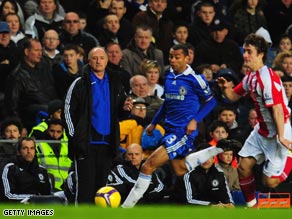 Fans feeling the pinch? Does the price of a match ticket make it hard to support Chelsea?
Since the Premier League came to life in 1992 huge sums of money have flooded the game, making it the richest in the world and bestowing its players with wealth unfathomable to the average fan.
The boom was built on lucrative TV contracts and one seemingly indelible fact: that the fans, come rain or shine, would continue to fill England's gleaming new stadiums.
This season, however, things have become a little less certain. For the first time clubs are struggling to get fans through the turnstiles. And the reason, according to a new report, is the prohibitive cost of following a Premier League club as tens of thousands of fans question whether they can afford to watch the beautiful game.
Have your say: Is it becoming too expensive to support a football team?
According to the UK's Virgin Money's quarterly Football Fans's Inflation Index, Premier League supporters have seen the cost of their match day experience rise by a massive 36 percent over the past three years, a rise primarily driven by increasing ticket and merchandising costs.
The average cost of watching a match, when factors like refreshments and travel are taken in to account, is now £106.21p ($147.13).
Most worrying however is the revelation that a quarter of fans will be watching less football this year. Over 40 per cent of the West Ham United fans questioned admitted that they will see their team play less this season, whilst over 30 percent of supporters from Liverpool and Manchester United will cut back on seeing their club.
Taken for a ride?
The cost of the cheapest home tickets around the world:
Chelsea FC: £38 ($55.14)
Real Madrid: ¨ 25 ($32.89)
LA Galaxy: $23
Bayern Munich: ¨ 15 ($19.51)
Sydney FC: A$19 ($12.72)
Boca Juniors: 4 Pesos ($4)
Al Ahly Cairo: 10 Egyptian Pounds ($1.81)
Last November, the UK's Daily Telegraph newspaper found during an investigation that Premier League crowds were, on average, 1,000 fans fewer per match than last season. Even top flight club Manchester United hadn't managed to sell out a single home game during the first three months of the season.
Across Europe the story is the same. An investigation of Champions League ticket prices by Virgin Money two years ago found that English teams were charging up to 89 per cent more than clubs from other countries.
A survey conducted by CNN found that a large gulf still remains. The cheapest ticket on general sale for a Chelsea home game is £38 ($55.14). A comparable ticket for Real Madrid is a relatively cheaper €25 ($32.89).
With seats staying empty some clubs have frozen season ticket prices or offered reduced admission for children.
But according to analyst Scott Mowbray from Virgin Money, spiraling wages -- partly fueled by Manchester City's newly acquired 'petro-dollars'- need to be paid by someone.
"Wage inflation will only be possible while football teams' incomes and spending keep on rising," he told CNN. "Fans are being continually asked to reach ever further into their pockets."
The Premier League, on the other hand, points out that the figures follow on from record attendances last season, and that ticket sales remain buoyant in the face of a global recession.
"Ticket prices are a matter for clubs themselves, all of whom offer a variety of concessions and ticket offers throughout the season," explained Premier League spokesman Nicholas Noble. "Strong attendances this season, with grounds currently over 91 percent full on average, have not stopped Premier League clubs from offering a number of very affordable deals on tickets."
Yet for Mowbray any concessions are too little, and may well come too late. "With incomes stretched to breaking point we may see the next generation of football fans lost forever."
How much does it cost to watch a match in your part of the world? Have price rises stopped you from following your team? Have your say.
E-mail to a friend