Pedro Pinto
CNN






LONDON, England (CNN) -- So the Kaka transfer saga is over. At least for now.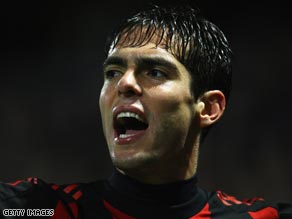 Right decision: CNN's Pedro Pinto says Kaka was correct to remain at AC Milan.
Personally, I was pleased to see the Brazilian play maker stay with AC Milan, as he could have set a dangerous precedent by leaving one of the world's most prestigious teams for the millions of dollars on offer at a mediocre English club.
Just imagine if Kaka went to Manchester City and in a couple of years time Wigan Athletic or Hull City were taken over by Middle East billionaires and then tempted Cristiano Ronaldo and Leo Messi to join their sides. No disrespect to the clubs mentioned, but it would be farcical to see the world's top players focusing on cash rather than staying with top teams and contending for top trophies.
Do you think Kaka made the right decision to stay at AC Milan?
I know that money can make the world go round, but I'm happy that on this occasion planet football did not spin faster to the tune of Manchester City's millions.
According to my sources in Italy, Milan did consider accepting an astronomical transfer fee and discussed the deal in detail with Kaka's father, but in the end, the player's will to stay with the Rossoneri put a spanner in the works.
Kaka, a devout Christian, said he spent several hours praying in search of a sign that would help him make the right decision, and in the end, perhaps the advice from his senior teammates at Milan and the chants from the team's passionate fans spoke louder than any multi-million dollar offer ever could.
What definitely needs to be taken into account in this ordeal is that regardless of the project Manchester City may have sold Kaka, they could not promise him a competitive team, at least in the next two years.
Even if Sheikh Mansour got Kaka and then spent wisely in the transfer market next summer, would that guarantee qualification for the Champions League? Not really. First of all, they need a new manager who knows how to deal with big name players (Jose Mourinho?), and then they would have to build from the back, forming a unit strong enough to overtake the Evertons, Aston Villas and Arsenals of the Premier League. And let's face it. That wouldn't happen overnight.
So, my congratulations go to Kaka. I think he made the right choice. If, in a year or two Manchester City get a handful of quality players and then go back for the Brazilian star, maybe then he can make a sound sporting decision. Not a financial one.
E-mail to a friend