(CNN) -- Brazilian football star Kaka appears to be edging closer towards a world record transfer from AC Milan to Manchester City after the Italian club's coach admitted he was powerless to prevent the player's proposed move to England.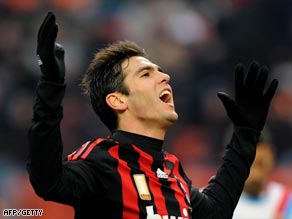 Kaka's possible move is dominating the January transfer window.
City, who have been considered the world's wealthiest football club since being takeover by an Abu Dhabi consortium last year, are believed to have offered AC Milan around $150 million for the 26-year-old.
A fee of that magnitude would smash the current record $100 million paid by Real Madrid for Zinedine Zidane in 2001.
Kaka, a former world footballer of the year, could also collect wages totaling $500,000 a week if he accepts a move to the ambitious English Premier League club, according to UK press reports.
Speaking at a press conference Friday ahead of his team's league clash with Fiorentina on Saturday, Milan coach Carlo Ancelotti said the player's future was out of his hands.
"I have said that Kaka should not leave. He is the central part of the future. But I am just the trainer. I train the team. I do not choose the players," Ancelotti told reporters in quotes reported by the UK's Press Association.
"If Kaka leaves then it is something I will have to accept. The question now is down to Kaka. It's up to him if he stays or goes."
A deal between Milan and City would turn the football world upside down. Milan are one of the world's most successful clubs, with seven European Cups and 17 Italian league titles to their name. Their roster features a host of star names, currently including English midfielder David Beckham and Brazilian forward Ronaldinho.
By contrast, Manchester City have spent their history in the shadow of their more successful neighbors, Manchester United. The last of their two English league titles came in 1968. Since then they have spent regular time outside England's top division.
But their fortunes off the field were transformed last August when the club was bought by a consortium bankrolled by Sheikh Mansour, a member of the Abu Dhabi royal family with a personal fortune estimated at $22 billion, according to the Football Rich List, researched and published by FourFourTwo magazine.
The club immediately broke the British transfer record by signing Brazilian forward Robinho from Real Madrid for $58 million. But money has not brought instant success on the field, with City languishing in 15th place in the Premier League.
Sports analyst Drew Barrand of the Sport Industry Group told CNN that City's offer for Kaka was a "once in a lifetime" bid.
"Manchester City are playing in a different transfer market to every other club in Europe," Barrand told CNN. "In that regard AC Milan are looking at it and saying, well, we could get three or four other players of equal value for the same figure."
The on-off transfer saga has dominated sports pages in England and Italy since rumors of a record bid broke earlier this week.
On Saturday, the Daily Mirror carried the headline, "I belong to City," but reported that Kaka had told teammates that he felt "bitter" about being railroaded into the move. Kaka has previously commented that he wanted to "grow old" at Milan, the club he joined from Sao Paulo in 2003.

Italy's Gazzetta dello Sport said Saturday that talks between City officials and Kaka's father would continue on Monday. Meanwhile, Milan fans were expected to voice their opposition to Kaka's possible departure later Saturday ahead of their side's clash with Fiorentina.
On Friday, some fans spraypainted "Hands off Kaka" in front of the club's headquarters and displayed a banner reading "Kaka is untouchable," Italian news agency ANSA reported.
E-mail to a friend