(CNN) -- Ramon Calderon's high-profile tenure as Real Madrid club president came to an abrupt end on Friday when he resigned from the helm of the Spanish giants.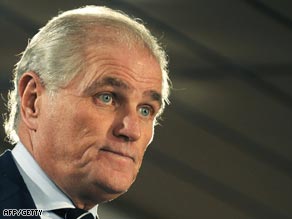 Calderon has gone after denying allegations of vote rigging.
Calderon gave the official confirmation at a hastily arranged press conference at the Santiago Bernabeu stadium, but rumors had circulated all day that he would be standing down.
Calderon, who met with the Real board on Friday morning, was under pressure after allegations in the Spanish sports paper Marca that he had rigged the ballot at December's general assembly, effectively a vote of confidence in his leadership.
The 57-year-old lawyer launched an impassioned defense as he brought his reign to an emotional and tearful end.
"I deliver up my head, which has been persecuted so much since my arrival, because I hope it will help pacify a social mob who are permanently upset and in fits by news that the press spreads, which is exaggerated with complete disregard to moral codes.
"I walk away with clean hands and a clear conscience, and less money and health than when I started."
Vice-president Vicente Boluda will take charge until new presidential elections, which have been brought forward to this summer.
Calderon took control of affairs at Real after closely contested presidential elections in 2006.
He was initially popular with supporters as Real won back-to-back Spanish titles, but this season arch-rivals Barcelona are dominating the Primera, leading to the sacking of Bernd Schuster in December and his replacement by Juande Ramos.
Calderon's very public pursuit of Manchester United's Cristiano Ronaldo, who eventually opted to stay at Old Trafford, also proved controversial.
But it was the latest allegations which have forced his departure and Calderon was at pains to issue another strong denial.
"I have nothing to hide and firmly deny all the lies that have been published by various media sources in the past few days," he added.
"The success of those who looked for my destruction is also the triumph of injustice and wickedness.
"I may have committed mistakes but never irregularities."
E-mail to a friend