(CNN) -- AC Milan coach Carlo Ancelotti made a tacit admission on Friday that his Brazilian star Kaka may move to Manchester City in a world record transfer deal.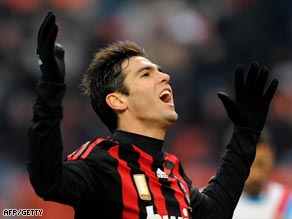 Kaka's possible move is dominating the January transfer window.
City have reportedly made a 120 million euros ($161 million) bid for Kaka and there is still no official word from the Milan giants about the state of negotiations.
But Ancelotti's comments ahead of Saturday's Serie A game against Fiorentina are the first clue that the offer is under serious consideration.
"I believe there is a negotiation ongoing and hence, it's something the club will have to evaluate with the player," he told the Press Association.
"My hope is that I can coach Kaka for many more years but we have to look at what the club evaluates regarding an offer that has been presented.
"It's normal that regarding the player there is a lot of importance placed for his role that he has at Milan.
"You cannot think of football as it was 20 years ago.
"The aims remain the same for the team, with or without Kaka," he added.
Kaka's intentions are also a mystery, but he was quoted on the Mediaset Web site of Milan owner and Italian premier Silvio Berlusconi on Wednesday pledging loyalty to the Rossoneri.
The 26-year-old playmaker said he wanted to "grow old" at Milan and eventually take over the club captaincy while admitting he had turned down "major offers" from other clubs, believed to be Chelsea and Real Madrid.
Ancelotti is hoping that the current media furore will not disrupt his team as they bid to step up their Serie A title challenge at the weekend.
"Kaka is professional," he said.
"We need a great performance from him against the Viola."
Meanwhile City's audacious bid for Kaka has drawn an unfavorable reaction from Premier League rivals.
Manchester United manager Alex Ferguson admitted to being "shocked and surprised" by the sums of money involved in the deal.
"I find it hard to get my head round to be honest," he told Sky Sports News on Friday.
"It is amazing.
"Football is football. From time to time you get shocks and surprises. This is surprising everyone."
Football Fanzone
Football fans, the chance to have YOUR say on CNN is here!


Chelsea manager Luiz Felipe Scolari, who was in charge of Kaka while coach of Brazil, said City would be hard-pressed to convince him to sign because he was not motivated by money.
However, he added: "I would not be surprised if he went to Manchester City. This is football. He is a professional player but maybe they offer to him not only money but an idea for the future. I know Kaka very well, money is not his problem."
Manchester City, who signed Brazil's Robinho soon after their Abu Dhabi backers took control, have been linked with a host of players in the January transfer window, but the potential signing of former world player of the year Kaka is dominating the headlines.
The reported fee would be more than twice the previous world record paid by Real Madrid to acquire Zinedine Zidane from Juventus in 2001.
E-mail to a friend