(CNN) -- Manchester City manager Mark Hughes insists he is being kept fully informed of any progress being made in his club's audacious move to sign AC Milan playmaker Kaka -- and has denied the $155 million deal is dead.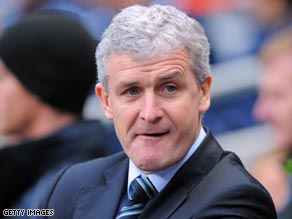 Manager Mark Hughes insists Manchester City's world record move for Kaka is still alive.
Hughes' announcement came on a day of mixed messages regarding the record-breaking proposed transfer, with City assistant manager Mark Bowen claiming the move was moving closer while, at the same time, a supposedly informed source in the United Arab Emirates was claiming the bid for Kaka had been abandoned.
"I saw those reports," Hughes told a press conference on Thursday. "You have to bear in mind the people who have been given a platform do not represent (owner) Sheikh Mansour or (chairman) Khaldoon (Al Mubarak).
"I do not think they should be given a platform because what they are saying is completely untrue. Negotiations are still taking place."
Hughes confirmed executive chairman Garry Cook led a deputation that flew to Italy earlier in the week for talks with AC Milan officials.
City insiders have previously claimed the discussions went as well as the Blues could possibly hope and Cook returned to England quietly optimistic a deal could be completed.
Hughes is fully supportive of the prospective transfer, backing up other claims that this week's meeting was not the first contact between the two parties.
"It would be naive to think I was not involved," he said. "I have a complete understanding of what is happening. This is not something we have just arrived at this week.
"It has been well documented that we have expressed an interest in signing Kaka. Garry Cook and a number of other people went to Milan earlier in the week to get an understanding of the situation. To add any more at this stage would be wrong."
Football Fanzone
Football fans, the chance to have YOUR say on CNN is here!


Later on Thursday, Milan's official TV channel confirmed that the Serie A club were considering a bid from City believed to be in the region of a staggering 120 million euros ($156 million.)
A statement said the bid had neither been accepted or rejected, but was "being considered."
However, Kaka's Milan team-mate Clarence Seedorf admits he would be "surprised" if the player left the club, insisting the vast sums of money involved would not change the life of the Brazilian.
The 26-year-old midfielder would reportedly earn a staggering $750,000 a week were a deal to be struck, but Seedorf believes money would not be a motivating factor.
"These are Hollywood figures, it is clear that City are sending a message -- they want to become one of the big clubs in the world," Seedorf told Sky Sports News.
"It would surprise me if he leaves this month, but on the other hand, I don't know what the personal motivations would be. The money is not what he needs, he has a big contract already. It is astronomical for AC Milan, but it's not going to be a life-changer for him."
On Wednesday, the Brazilian superstar appeared to rule out a move by insisting he wants to "grow old" at AC Milan.
He told Italian TV station Mediaset: "My aim is to become, at some point in the future, the captain of this team. I know there is a pecking order, with (Paolo) Maldini at the front and then (Massimo) Ambrosini, but after that...
"I have already turned down some major offers," he added. "But I will be here until they (AC Milan) want me here. As long as my aims are the same as the club's aims, I would like to remain here."
Kaka first heard of City's reported offer before training on Wednesday but admitted it was not the first time he had faced this situation.
"I arrived this morning and I saw some news on the newspaper but I went on to do my job," he said. "I reiterate what I have always said, they (City) can make the offer to (Milan) they want to make but it will depend on Milan.
"What happens will be decided by Milan. It's not the first time this has happened, I have already said 'no' to other offers and this is not probably something which will see me leave Milan.
"If, one day, the club wishes to sell me then it is a different issue altogether. But I feel very well here, it's not the money that will see me leave Milan."
E-mail to a friend