By James Montague
For CNN






LONDON, England (CNN) -- It was an understated gesture, but one that reverberated around the footballing world.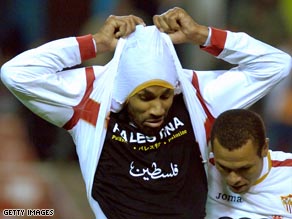 Seville forward Frederic Kanoute reveals a pro-Gaza T-shirt after scoring against Deportivio La Coruna.
When Frederic Kanoute scored for Seville against Deportivo La Coruna last week in the Copa del Rey he slowly lifted his jersey and revealed a black shirt embossed with the word 'Palestine' in various languages.
Within a few seconds it was gone but by then Kanoute, a French-born Muslim who plays for Mali, had made his political point.
It earned him a booking for lifting his shirt and, later, a €3,000 ($4,000) fine for breaking article 120 of the Spanish FA's rule book which states that "revealing messages of a religious or political nature on the pitch is strictly prohibited during the time of play."

See images of footballer's political protests »
Yet for many in the Arab world, Kanoute's gesture made him something of a hero. Bloggers buzzed with praise for the striker, whilst the Palestinian diplomatic mission in Spain was quick to thank Kanoute for his support.
"[Kanoute] has shown himself to be very brave by supporting our region in a public act like he did," Mahmud Aluanen, a spokesman for the mission, told Radio Marca. Should football and politics mix? Tell us what you think.
Football Fanzone
Football fans, the chance to have YOUR say on CNN is here!


"Sportsmen are human beings, and they cannot hide their feelings. They have all the right in the world to express their opinions in areas that question human rights. I am sure that all Palestinian children, who love Spanish football, will be moved by this gesture."
High profile players like Thierry Henry and Samuel Eto'o also lined up to praise Kanoute's actions, according to Spanish newspaper Marca.
Don't Miss
Footballers have always made political gestures. During the NATO bombing of Yugoslavia in 1999, Yugoslav players plying their trade in Europe's top leagues organized a series of symbolic protests, the most famous being Lazio's Sinisa Mihajlovic who wore a T-shirt saying 'Peace, not war.'
However, it's not just international politics that gets footballers going, as Liverpool FC player Robbie Fowler proved when he revealed a T-shirt that supported striking dock workers during a game in 1997.

FIFA has campaigned long and hard to try and remove overt political gestures from football, suspending national football associations when their internal politics impinge on the game whilst strongly disapproving of actions on the field of play that may harm football's impartiality. There are plenty of other forums, they argue, for players to air their political views rather than on the pitch.
What do you think? Should footballers be free to make political statements on the pitch? Should politics and sport be kept separate? Or is the commonly used maxim that 'football and politics don't mix' a fallacy?
E-mail to a friend