(CNN) -- Brazilian superstar Kaka has appeared to rule out a world record transfer to Manchester City by insisting he wants to "grow old" at AC Milan.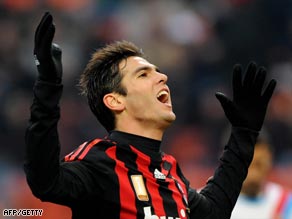 Kaka says he wants to take on the AC Milan captaincy at some stage of his career.
Overnight media reports said the newly cash-rich Premier League club were prepared to break the world transfer record to secure the services of the brilliant playmaker and pay him in the region of $750,000 per week.
But Kaka has been quoted on the official Web site of Italian TV station Mediaset, owned by the Milan owner and Italian prime minister Silvio Berlusconi, pledging his loyalty to the Serie A giants. "I want to grow old at Milan," Kaka said.
"My aim is to become, at some point in the future, the captain of this team. "I know there is a pecking order, with (Paolo) Maldini at the front at then (Massimo) Ambrosini, but after that...
"I have already turned down some major offers," he added. "But I will be here until they (AC Milan) want me here. As long as my aims are the same as the club's aims, I would like to remain here."
Kaka first heard of City's reported offer before training on Wednesday but admitted it was not the first time he had faced this situation.
Football Fanzone
Football fans, the chance to have YOUR say on CNN is here!


"I arrived this morning and I saw some news on the newspaper but I went on to do my job," he said. "I reiterate what I have always said, they (City) can make the offer to (Milan) they want to make but it will depend on Milan.
"What happens will be decided by Milan. It's not the first time this has happened, I have already said 'no' to other offers and this is not probably something which will see me leave Milan.
"If, one day, the club wishes to sell me then it is a different issue altogether. But I feel very well here, it's not the money that will see me leave Milan."
Earlier on Wednesday, Kaka's agent Diogo Kotscho confirmed that talks had taken place between a Manchester City delegation and Milan over a possible deal.
Kotscho told Sky Sports News that he could not rule out his client moving to City in the January transfer window. "It's not impossible," he said. "But I think it will be very, very difficult to have a deal with Milan."
Kaka, 26, has spoken in the past of his ambition to play in England and if he joined City would link up with Brazilian international teammate Robinho.
City, who are 15th in the 20-team Premier League, were taken over by an Abu Dhabi consortium at the start of the season and have the resources to invest heavily in new players.
England full-back Wayne Bridge signed from Chelsea at the start of the transfer window and manager Mark Hughes has also been pursuing striker Roque Santa Cruz, who played for him at Blackburn.
Ironically, Hughes is not a supporter of the January transfer window and told the Manchester Evening News. "I am sure there were reasons behind bringing in the transfer window in the first place but I cannot fathom what they were.
"Now we get to January and the prices are inflated, expectations are heightened and the media goes crazy. I don't think it is a healthy situation."
E-mail to a friend