(CNN) -- Real Madrid have failed in ar bid to overturn UEFA's ruling denying them the right to register both Klaas Jan Huntelaar and Lassana Diarra to play in the Champions League knockout stages.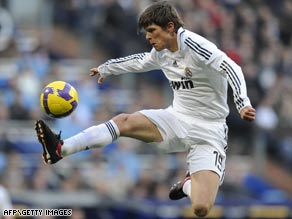 Real must decide whether to register Huntelaar, above, or Diarra for the Champions League KO stage.
UEFA's appeals body made the decision on Tuesday after Madrid challenged the original ruling made by European football's governing body last week.
Regulations specify that clubs can only register one player who has already played in Europe that season to represent them in the latter stages of the Champions League or UEFA Cup the same campaign.
Both Diarra and Huntelaar had played in the UEFA Cup this season, for Premier League Portsmouth and Dutch club Ajax respectively, prior to joining Madrid earlier this month.
Madrid claimed they had a "different interpretation" of the rule, but both the Spanish club's initial request and subsequent appeal have now been thrown out.
A statement confirmed: "UEFA's Appeals Body today upheld the decision taken by the UEFA Control and Disciplinary Body on 8 January, in accordance with article 17.18 of the [UEFA Champions League] competition regulations.
"They rejected an appeal by Real Madrid CF in relation to the Spanish club's request to be able to register two players who have already competed in UEFA competition this season, as part of their A-list squad for the knockout rounds of the UEFA Champions League."
Madrid must now decide whether to accept the finding or pursue the issue further at the Swiss-based Court of Arbitration for Sport.
E-mail to a friend