By Mike Steere
For CNN






LONDON, England (CNN) -- Amid all the fanfare about Cristiano Ronaldo at Monday night's FIFA World Player Gala awards in Zurich, Switzerland; a remarkable story emerged.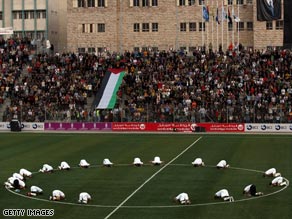 The Palestinian players pray before their historic match with Jordan in the Al-Husseini Stadium.
FIFA's inaugural "Development Award" was presented to the Palestinian Football Association (PFA) for significant efforts in growing the game and building a new stadium which meets international standards.
FIFA President Sepp Blatter explained that the Palestinian Football Association received the award "in recognition of the difficult task that it had accomplished in keeping football alive."
He added that the award was given for the PFA's work with FIFA in building the first international-standard stadium in the West Bank, and organizing the now famous match between the Palestinian team and Jordan in October 2008.
Don't Miss
The match was the Palestinians' first home international since becoming affiliated to FIFA in 1998. The game was held at the newly renovated Al-Husseini Stadium in the West Bank and ended in a 1-1 draw.
Previously, the Palestinians did not have a pitch that met international standards and had to play their "home" matches either in Jordan or Qatar.
The redevelopment of the stadium included a new stand, new turf, a technical center and offices for the PFA.
At the opening of the stadium last year, Blatter said: "The aim of football is not only to put the ball in the net, but to touch the world and build a better future."
E-mail to a friend