(CNN) -- A football match in Spain's top division had to be halted by officials for a minute Sunday after fans laid siege to the visitor's goal with a barrage of snowballs.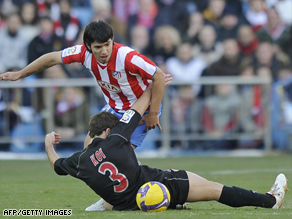 The snowball shower happened during a league match at Madrid's Vicente Calderon Stadium.
According to media reports, the incident happened during Atletico Madrid's Primera Liga match at home to Athletic Bilbao.
"The home fans threw numerous snowballs towards the Bilbao goal, some of them hitting the goalkeeper," the match referee Cesar Muniz Fernandez was quoted by Reuters.com as saying.
"In the fifth minute, I was forced to stop the game for a minute because of the continuous throwing of snowballs and had to ask officials to take the necessary measures."
The game was restarted after Fernandez requested a message be put out over the stadium PA system asking the fans to stop, Spain's Marca newspaper said.
The visitors enjoyed the last laugh though as they went on to win 3-2.
E-mail to a friend