(CNN) -- Alex Ferguson poured scorn on controversial remarks about him by Liverpool manager Rafael Benitez as he celebrated Manchester United's 3-0 win over Chelsea which boosted his side's title challenge.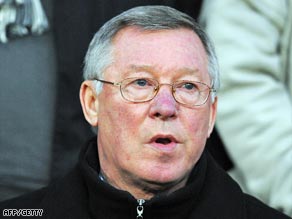 Ferguson was dismissive of explosive comments made about him by Benitez.
Benitez launched an extraordinary personal attack on Ferguson on Friday then saw his Liverpool team scramble to a goalless draw at lowly Stoke.
After Ferguson had seen his team close to within five points of Liverpool, with two games in hand, he shrugged off Benitez's allegations, which included that he bullied match officials and received preferential treatment from football authorities.
"I think you have got to cut through the venom of it and hopefully he will reflect and understand that what he is saying was absolutely ridiculous," the Scot told Sky Sports.
"He is an angry man and I think he was disturbed for some reason or another, that is all I've got to say about it."
Benitez made his scripted comments in the context of the Football Association's Respect campaign, saying Ferguson was not abiding by the spirit of the initiative.
Football Fanzone
Football fans, the chance to have YOUR say on CNN is here!


"All managers need to know is that only Mr Ferguson can talk about the fixtures, can talk about referees and nothing happens," he said.
"We need to know that I am talking about facts, not my impression. There are things that everyone can see every single week."
Asked to respond to Benitez's assertion that he was stating "facts", Ferguson added:
"Well they're not because it's well-documented. I'm not going to get into that because at this moment in time I think we should concentrate on chasing the leaders, which is Liverpool, and we've got games in hand and we want to try to catch them up."
E-mail to a friend