(CNN) -- Liverpool manager Rafael Benitez has launched an astonishing attack on his Manchester United counterpart Sir Alex Ferguson.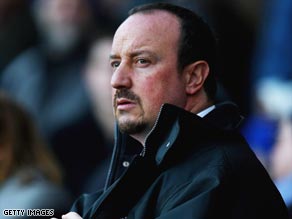 Liverpool manager Benitez has launched an outburst against his United counterpart Ferguson.
The Spaniard claimed United manager Ferguson is "the only manager who will not be punished" for outspoken attacks on referees.
A clearly emotional Benitez claimed: "We had a meeting in Manchester with managers and the Football Association about the respect campaign.
"And I was very clear, forget the campaign because Mr Ferguson was killing the referees.
Benitez added: "To hear someone talking when he has problems with referees every single week, and now complaining about the fixtures and complaining about everything, is not fair.
"You can see every week how they put (referees) under pressure. We have seen it before. We have seen players sent off at Old Trafford and we do not see our opponents sent off.
"It is part of the game. But to complain and to always have an advantage is not fair. During the respect campaign, and this is a fact, Mr Ferguson was charged by the FA for improper conduct after comments made about Martin Atkinson and (the FA's) Keith Hackett.
Football Fanzone
Football fans, the chance to have YOUR say on CNN is here!


"He was not punished. He is the only manager in the league that cannot be punished for these things. How can you talk about the respect campaign and criticize the referee every single week.
"Then he was talking about the fixtures. Two years ago we were playing a lot of early kick-offs away on Saturdays when United were playing on Sundays -- and we didn't say anything.
"Now he is complaining about everything, that everybody is against United. But the second half of the season will see them playing at home against all the teams at the top of the table, it is a fantastic advantage."
Liverpool travel to struggling Stoke City on Saturday looking to increase their lead at the top of the Premier League, with nearest rivals United and Chelsea facing each other on Sunday.
E-mail to a friend