(CNN) -- David Beckham is set to make his debut for AC Milan against Roma on Sunday with his former LA Galaxy general manager Alexi Lalas claiming he will be tempted to prolong his stay in Italy.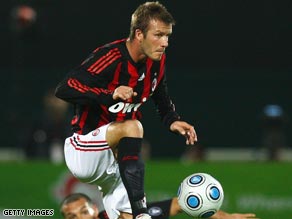 Former England captain Beckham made his debut for Milan in Dubai this week.
Beckham is filling in time ahead of the start of the Major League Soccer season in the United States with a two-month loan period at the former European champions.
But Lalas, a major figure in tempting the former England captain to the MLS in the first place, believes he could extend the loan.
"I think he wants to do well with the Galaxy but you only have one career," Lalas told BBC Radio Five live on Friday.
"The experience he's going to have at Milan will benefit him individually, how much it benefits the Galaxy and the people that are ultimately paying the majority of his wages remains to be seen.
"He's back in his comfort zone at AC Milan, playing with one of the biggest clubs in the world, with a tremendous amount of talent around him, with incredible money out there on the field so it must be, in a weird way for him, a relief to get out there," he added.
Football Fanzone
Football fans, the chance to have YOUR say on CNN is here!


But Beckham's management team were quick to pour cold water on the speculation. Spokesman Simon Oliveira told Press Association that Beckham would be returning to the Galaxy in March as planned.
"Whilst we respect Alexi's right to an opinion, he has not been party to any contractual discussions on the loan agreement to Milan," he said.
Beckham, who needs first-team play to regain his place in Fabio Capello's England squad, made his debut for Milan in midweek as the Serie A side beat Hamburg on penalties in a friendly in Dubai on Tuesday.
The Serie A program resumes at the weekend after a brief mid-winter break with Milan attempting to make up ground on city rivals Inter at the top of the table.
E-mail to a friend