LONDON, England (CNN) -- Will it be Ballon d'Or holder Cristiano Ronaldo? Or what about Euro 2008 winner Fernando Torres?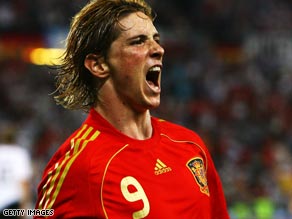 Player of 2008? Does Spain and Liverpool striker Fernando Torres get your vote for FIFA Player of the Year?
The world's best footballers -- male and female -- will be named by world governing body FIFA during a ceremony in Zurich next Monday.
The competition this year is tough for both awards, particularly in the men's category where 23 players were named in the shortlist released in October.
Before the official decision is made by the coaches and captains of the globe's national teams, we want to know who YOU think should take the award? Will FIFA's pick reflect your choice? Tell us your player of 2008 in the Sound Off box below.
The tight competition this year follows a close race for the 2007 prize, when Brazilian Kaka managed to edge out Argentina's Lionel Messi and Cristiano Ronaldo for the award.
Kaka, Messi, Ronaldo, and Torres have been tipped as favorites for the award this year -- with most predicting Ronaldo to emerge victorious.
Don't Miss
In the women's competition, three-time winner Birgit Prinz of the German team has been nominated, alongside Brazilian Marta, who claimed the award in 2006 and 2007.
The voting is conducted by the coaches and captains of international teams, who each get three votes -- one worth five points, a second worth three points and a third worth one point. The player with the most points wins the award and the prestige of being the best player in the world.
Shortlist for the FIFA Men's Player of the Year:
Argentina: Sergio Aguero, Lionel Messi
Brazil: Kaka
Cameroon: Samuel Eto'o
Côte d'Ivoire: Didier Drogba
England: Steven Gerrard, Frank Lampard, John Terry
France: Franck Ribery
Germany: Michael Ballack
Italy: Gianluigi Buffon
Netherlands: Ruud van Nistelrooy
Portugal: Cristiano Ronaldo, Deco
Russia: Andrei Arshavin
Spain: David Villa, Xavi, Fernando Torres, Iker Casillas, Cesc Fabregas, Andres Iniesta
Sweden: Zlatan Ibrahimovic
Togo: Emmanuel Adebayor
Shortlist for the FIFA Women's World Player of the Year:
Brazil: Cristiane, Marta, Daniela
Canada: Christine Sinclair
England: Kelly Smith
Germany: Nadine Angerer, Birgit Prinz
Norway: Ingvild Stensland
USA: Shannon Boxx, Hope Solo
E-mail to a friend