(CNN) -- Cristiano Ronaldo gave Manchester United a New Year boost by again ruling out a move to Spanish giants Real Madrid.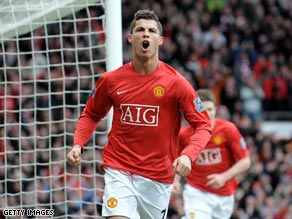 Ronaldo's goals fired United's brilliant 2008-09 campaign.
The European Footballer of the Year has been constantly linked with a transfer to the Bernabeu, speculation which increased following recent claims that Real had reached an agreement with United over his eventual sale.
"There's always speculation, not just about me, but about the future of players all around the world," Ronaldo told the club's official television station MUTV.
"People were speaking about me this summer but that was normal because of what I did during the season.
"What people are saying now is not true. Who says that is a liar because I am happy at the club, I want to stay here. I feel at home here. I feel very happy here."
Ronaldo was widely quoted during a turbulent summer that he was keen to play for Real and it appeared only a matter of time before the move became a reality, but now the 23-year-old is pledging loyalty to the Old Trafford faithful.
"I love the fans because they have been brilliant with me, not just this season but every season. Like I said before, I feel at home in Manchester," he added.
Football Fanzone
Football fans, the chance to have YOUR say on CNN is here!


Ronaldo scored 42 goals in United's Premier League and Champions League double last season and after coming back from ankle surgery has netted 11 times this campaign.
United go into 2009 handily-placed to retain the English title, in the knockout stages of the Champions League and semifinals of the League Cup.
Ronaldo is crucial to their continued success and he used the interview to pay tribute to the role manager Alex Ferguson has played in his development into a world class player.
'I want to be part of this club with you. I want to win trophies with you.' He's very important in my career, Alex Ferguson," he added.
E-mail to a friend