Patriots brush aside Buccaneers as NFL returns to Wembley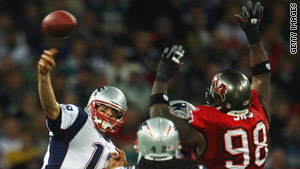 Tom Brady launches another pass during the Patriots' victory against the Buccaneers.
STORY HIGHLIGHTS
New England Patriots extend Tampa Bay's dismal run with 35-7 victory
Tom Brady throws three touchdown passes as Patriots win fifth game of seven
Buccaneers slump to seventh successive defeat, worst start to season since 1985
It was the third year in a row that an NFL game has been played in London
(CNN) -- The New England Patriots extended Tampa Bay's dismal run with a 35-7 victory at London's Wembley Stadium as NFL action returned to Britain for the third successive year on Sunday night.
Quarterback Tom Brady threw three touchdown passes for a total of 308 yards, completing 23 of 32 attempts, as the Patriots extended their regular-season record to a winning 5-2.
With two receptions, New England's Kevin Faulk became the 26th running back in NFL history to reach the 500 milestone.
The Buccaneers, who gave up a home game to play in the UK capital, have now lost all seven games this season -- their worst start since 1985 -- and 11 overall.
Patriots safety Brandon Meriweather scored the opening touchdown after only two and a half minutes as he intercepted Josh Johnson's pass on the opening drive and ran 39 yards to cross the line.
Meriweather snaffled another Johnson toss, which allowed Brady to send his team downfield before throwing a 14-yard touchdown to diminutive receiver Wes Welker for a 14-0 lead inside the opening quarter.
Brady, who threw six scoring passes in the 59-0 thrashing of the Tennessee Titans last time out, suffered his first interception in 184 attempts early in the second quarter as Tanard Jackson stole the ball in the end zone.
But he bounced back soon after with a short toss that Sam Aiken carried 54 yards for his first career touchdown.
Brady surprisingly lapsed again, and this time the Buccaneers capitalized as Johnson inspired a 67-yard drive, with his 33-yard touchdown pass to Antonio Bryant making it 21-7 at halftime.
Brady threw long for Ben Watson to run in and score early in the third quarter, and Laurence Maroney's short run capped the win with a fifth touchdown.
In Sunday's other action, Super Bowl champions Pittsburgh Steelers ended handed Brett Favre's Minnesota Vikings their first defeat this season, winning 27-17 at home to join the Patriots on five wins.
The Indianapolis Colts stayed unbeaten after six matches, sending the St Louis Rams to a seventh defeat this season and 17th in a row, winning 42-6.
The Green Bay Packers warmed up for Favre's return to Lambeau Field next week with a 31-3 win at the Cleveland Browns.
Houston Texans led 21-0 in San Francisco before having to hold on for a 24-21 win against the 49ers, while San Diego Chargers (3-3) won 37-7 at the Kansas City Chiefs (1-6).