(CNN) -- American Andy Roddick has secured his place at the ATP World Tour Finals in London next month.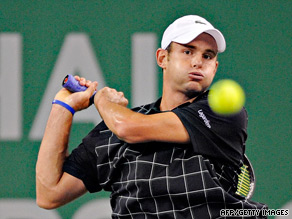 Roddick has secured his place at the ATP World Finals despite his recent knee injury.
Despite being forced out of the Shanghai Masters last week due to a knee injury, Roddick has won enough points to guarantee his spot at the 02 Arena tournament.
Roddick becomes the sixth of the eight qualifier for the season's climax -- held from November 22-29 -- despite retiring in his second-round clash with Stanislas Wawrinka in China.
"The reaction I received from fans after the Wimbledon final was something I will never forget," Roddick told the official ATP Tour Web site.
"I've always had great support in London and I'm looking forward to being back there in November. I'm sure it will be a fantastic event."
Don't Miss
Roger Federer, Rafael Nadal, Novak Djokovic, Andy Murray and Juan Martin del Potro have already clinched their place in the tournament.
The seventh and eighth positions are currently being held by Shanghai winner Nikolay Davydenko and Spain's Fernando Verdasco, although Robin Soderling and Fernando Gonzalez -- in ninth and 10th places -- also still have a chance of qualifying.
E-mail to a friend