(CNN) -- World Boxing Association (WBA) heavyweight champion Nikolai Valuev has shrugged off David Haye's latest promotional stunt and dismissed the Briton as just "another idiot".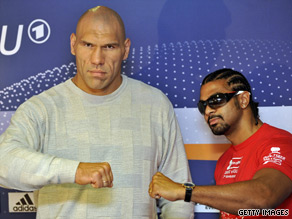 Valuev (left) and Haye have been involved in a war of words ahead of next month's WBA title fight.
Outspoken Haye, 29, took part in a farcical press conference last week which saw a man turn up dressed in a Halloween outfit apparently pretending to be Valuev.
After goading rival world heavyweight champions Vitali and Wladimir Klitschko earlier this year with a graphic t-shirt depicting one of the brothers' severed head, Haye has attempted to wind the Russian giant up by constantly mocking his size and personal hygiene.
Valuev, however, remains distinctly unimpressed and -- ahead of their clash in Nuremberg, Germany on November 7 -- he told reporters: "I don't really care about what he says or does.
Don't Miss
"I cannot take him seriously. When I first heard about the t-shirts where he chopped the Klitschkos heads, I thought 'Oh my God, another idiot in our world'.
"He can say whatever he likes -- it will not get him my title."
Valuev -- who has never been floored, let alone knocked out -- added: "Everything has been going very well thus far. I will be in perfect shape on November 7.
"Let's just see what Haye has to say after our meeting in the ring, I doubt it will be much."
E-mail to a friend