By Matt Knight
CNN






LONDON, England (CNN) -- The waiting is finally over for Jenson Button. Ten seasons and 171 races after the 20-year-old rookie made his F1 debut for the Williams team back in 2000, the Briton has finally called time on his critics -- of which there have been many -- to clinch his maiden world title.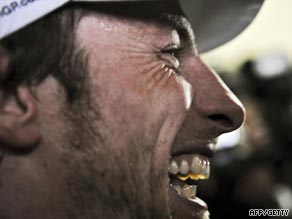 Button's triumph caps a rollercoaster career in Formula One.
Button's career has certainly been full of experience -- both good and bad. He entered the sport with a growing reputation as one of the best young drivers around.
In karting -- where he first made his name -- one of his former manager's, Paul Lemmens of GKS Racing, said he was one of the two best teenagers he'd ever seen. The other was Ayrton Senna.
But it would not be Button's fate to set the racing world alight as the legendary Brazilian had done; instead his "playboy" lifestyle overshadowed track performances that included few podium places.
Is Button the star or his car ?
The first win eventually came in his sixth season, at the Hungarian Grand Prix in 2006. It reinvigorated Button and his many supporters who believed it might be the beginning of a career renaissance.
But, once again Button faded back into obscurity and his oft-aired complaints about the competitiveness and reliability of his cars became an all too familiar post-race refrain.
As 2009 began, Button's racing destiny seemed even more bleak. He would no longer be able to complain about the speed of his car because he didn't have one to drive after Honda decided to pull out of Formula One.
But in stepped Ross Brawn, handing Button his sixth drive in ten seasons in the sport. Finally, Button was armed with the fastest car on the grid and wins came in a rush -- six in the first seven races.
It was as if he was making up for all those years in the wilderness.
Don't Miss
But just as his critics were walking away, Button called them back telling them. He hadn't quite finished with them.
A mid-season slump saw reporters sharpening their pencils for what was shaping up to be one of the finer examples of sporting capitulation in the modern era.
But with time and races running out, Button found it within himself to fashion an assertive drive at Interlagos that, along with some much needed luck, put that story to bed and made him Briton's 10th Formula One world champion.
It's difficult to say where he ranks among his fellow countrymen, let alone the all-time list of champions.
And future seasons will show if Button was merely the lucky beneficiary of the brains of his team boss Ross Brawn who, first at Benetton and then Ferrari, shaped the destiny of seven-time champion Michael Schumacher.
So in 2009, has the quickest car and not the best driver won the world championship yet again?
Let us know what you think?
E-mail to a friend

All About Rubens Barrichello • Jenson Button • Sebastian Vettel • Lewis Hamilton • Mark Webber • Fernando Alonso • Kimi Raikkonen • Adrian Sutil • Formula One Racing • Motorsports