(CNN) -- Italy's Francesco Molinari holds a two-stroke lead after the opening round of the Portugal Masters at the Oceanico Victoria Club on Thursday.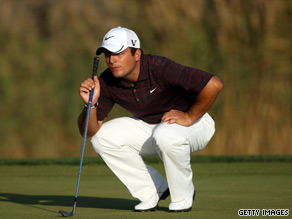 Italian Molinari leads the way in Portugal after an opening nine-under-par round of 63.
Molinari carded a nine-under-par round of 63 to move him clear of a chasing trio of Britons Justin Rose and Alastair Forsyth and Charl Schwartzel of South Africa.
The 26-year-old Molinari equalled the lowest round of his career and will now be hoping there is not a repeat of what happened after his last 63.
That was at the Irish Open in May and he was disqualified the following day for signing for the wrong score in his second round.
Molinari told reporters: "It was a really good round, and my putting was really good. Usually I'm not really a fast starter. I usually play better in the weekend than in the first couple of days."
In the battle for The Race to Dubai, Lee Westwood improved his hopes with a 66 -- despite being stung by a wasp -- as current race leader Rory McIlroy finished with a 69, despite being four-under-par after five holes.
Don't Miss
Unlike McIlroy, Molinari made the most of his fast start. After three birdies and an eagle in the first five holes he then grabbed five more birdies in an inward 31.
Meanwhile, European Ryder Cup Captain Colin Montgomerie made a welcome return to form with a four-under-par round of 68.
E-mail to a friend