(CNN) -- Seven-time world champion Michael Schumacher has thrown his weight behind his former Ferrari boss Jean Todt in his battle to take over as chief of motorsport's world governing body.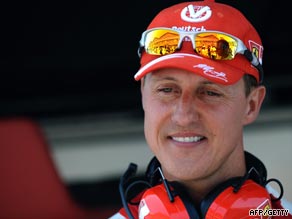 Schumacher has backed his old boss to become president of the FIA.
Todt is facing a strong challenge from former world rally champion Ari Vatanen in the battle to succeed Max Mosley as president of the FIA (Federation Internationale de'l'Automobile).
Schumacher has sent an open letter to presidents of FIA clubs worldwide who comprise the voters in the election and published it on his own personal Web site www.michael-schumacher.de.
The 40-year-old German said he is "deeply convinced Jean Todt is the right person to be the next president of the FIA."
Schumacher went on to praise Todt's "leadership, loyalty, commitment and knowledge," and added that "in my view, his outstanding skill is the encouragement of teamwork."
Schumacher is calling for reforms at the top of FIA and claims the governing body needs to be more open in its dealings.
"I deeply feel it is time for some changes,but these changes must be managed skillfully by someone as skilful as Jean who has the right team of people to on the one hand appreciate the great achievements of the FIA and on the other hand really make change happen.
Don't Miss
Finn Vatanen has been campaigning hard to attract votes for FIA clubs outside the traditional powerhouse countries of motorsport.
He told CNN that urgent changes need to be made to give them a voice in the running of the sport.
"The FIA recently hasn't been the most democratic society and the clubs don't have a feeling that their voices are heard, because in fact the clubs are the owners of FIA and not the other way round."
He added: "The only remedy for the shortcomings of democracy is to have more democracy and so we must evolve with the times. It's high time that we catch up with the moral and ethical standards of good governing in the FIA also."
The decision will be made later this month, but former world champion Jackie Stewart told CNN in an earlier interview that he did not believe either Todt or Vatanen were right for the job.
The legendary 70-year-old Scot said it was time for the FIA to be run by professionals not "part time amateurs" and not by an insider from the sport.
"It should go top line person who has been marketing, corporate and senior management and who is in his mid to late 40s," he said.
Stewart's call went unheeded and Mosley recently gave his public backing to Todt, a move which Vatanen shrugged off with a smile.
"I leave it for the club presidents to judge and I believe that justice will prevail," he said.
E-mail to a friend