(CNN) -- Timo Glock has been ruled out of next Sunday's Brazilian Grand Prix at Interlagos after tests revealed he sustained a cracked vertebra from his crash in Japan last weekend.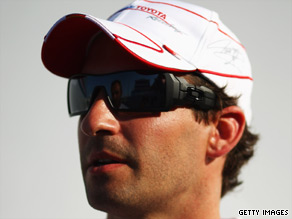 Timo Glock will miss the Brazilian Grand Prix following the injury he sustained in qualifying at Suzuka.
Toyota driver Glock was initially diagnosed with only a minor cut to his right leg following his accident in qualifying at Suzuka.
However, subsequent medical checks in Germany have now revealed another injury, ruling Glock out of the penultimate race of the year and potentially the season-ender on November 1 in Abu Dhabi.
The team's third driver, Kamui Kobayashi will now replace Glock in Brazil, as he did in Friday practice in Japan when the German was unwell.
Team principal John Howett said on the official Toyota Web site: "Obviously everyone in the team is very disappointed and feels for Timo, and we wish him a very speedy recovery.
"Based on the initial diagnosis, we fully expected Timo to return in Brazil, but unfortunately a different injury has been revealed which prevents that.
"He will remain in Germany to recover and we hope he can recuperate in time for Abu Dhabi, although at this stage the situation is not clear.
Don't Miss
"Kamui was the natural choice to step in, and he proved in Suzuka that he is capable of holding his own.
"It is a difficult task for him, but he knows the team will give him its complete support and we know he is motivated to make the most of this unexpected opportunity."
E-mail to a friend