(CNN) -- Felipe Massa has been cleared to return to the wheel of a Ferrari following medical tests in Paris which confirmed his continuing successful recovery from a serious skull injury.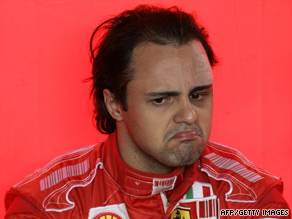 Felipe Massa has conceded that he is very unlikely to return to competitive racing for Ferrari this year.
The Brazilian will return to the Italian team's Maranello base on Sunday, and then test drive a private F2007 single-seater the next day "under the personal assistance of the F1 Clienti department," according to the Ferrari Web site.
"The medical team, coordinated by Professor Jean-Charles Piette, the FIA's medical delegate, finished a series of neurological exams started yesterday, whose outcome was positive," a team statement said on Saturday.
Massa was effectively ruled out for the rest of the season when he was hit by a loose part from the Brawn car of compatriot Rubens Barrichello in Hungary in July.
The 28-year-old will be in Brazil for his home Formula One grand prix on October 18 as a special guest to wave the checkered flag.
He had hoped to race in the season-ending race in Abu Dhabi on November 1, but conceded that was very unlikely following two days in simulator training last week, meaning his second replacement Giancarlo Fisichella will remain at the wheel of the second Ferrari.
"I hope I'll be back soon but I also know the best thing is that I'm coming back 100 percent at the start of the next season," Massa told Ferrari's Web site.
"My dream would be to race in Abu Dhabi, but the possibility is really, really low."
Massa has been given special dispensation to drive the 2007 Ferrari, as F1 rules prohibit in-season testing.
"I hope I can do many miles and do well, not only in terms of performance but also as far as constant lap times are concerned," he said.
"I'm confident and I think there won't be any problems. It's true that a Formula One car vibrates a lot and there is lots of physical stress, but I'm used to it."
Next year, Massa will race alongside two-time world champion Fernando Alonso, who will join from Renault with Kimi Raikkonen to be released a year early from his contract.
"I'm sure that with Alonso we'll form a great team and we'll work together very well. The goal will be very simple - winning," Massa said.
"I saw the model of the new car in the wind tunnel -- it's different from the actual one, also because there will be new rules. Let's hope it will be fast."
E-mail to a friend