(CNN) -- World number three Andy Murray has withdrawn from next week's Shanghai Masters tournament because of his on-going wrist injury.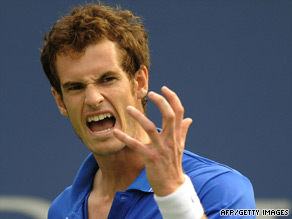 Andy Murray's wrist injury has forced him to miss next week's Shangai Masters tournament.
The 22-year-old aggravated the problem in Great Britain's Davis Cup defeat to Poland last month.
In a letter to tournament organisers Murray apologized for his absence. "I apologize for the inconvenience that my withdrawal may cause but I trust you understand the situation is beyond my control and I would much rather participate in the tournament than be in the current position regarding my health".
A statement on Murray's Web site revealed he came to the decision after receiving medical advice and has pencilled in a return date. "He has decided to give his wrist extra time to recover and is likely to return for the Valencia Open."
Murray's injury is the latest blow in a frustrating year for the Briton, whose last ATP appearance came in his U.S. Open defeat to Marin Cillic.
Don't Miss
Murray's deicision is the second setback to hit the event following the withdrawal of world number one Roger Federer -- who cited 'fatigue' for his decision to pull out.
World No.2 Rafael Nadal is now the highest ranked player at the inaugural edition of the tournament as an ATP Masters 1000 event.
E-mail to a friend