(CNN) -- World number eight Sergio Garcia had the spotlight taken off by him by world number 1,076 Manuel Quiros when the Madrid Masters began on Thursday.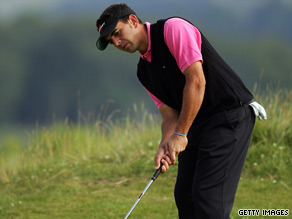 Quiros holds a two-stroke lead in Madrid despite not recording a top 40 finish in the Challenge Tour this year.
A closing 15-foot eagle putt had given Garcia -- playing in Europe for the first time since the British Open in July -- an eight-under-par 64 and the clubhouse lead at Centro Nacional.
But, playing in the last group of the day Quiros, not even a full European Tour member, blasted an incredible 10-birdie 62.
The 30-year-old from Marbella, who earned a place in the event off the Spanish Order of Merit, has made six trips to the Tour qualifying school and only made it through once.
That was three years ago and even on the "second division" Challenge circuit this year he has yet to record a top-40 finish.
Garcia remains firm favorite for the title as a result, especially with playing partner -- and former Ryder Cup partner -- Luke Donald managing only a one-under-par 71.
Don't Miss
Third place is held by England's Oliver Fisher, at last finding form again after missing his last seven halfway cuts and 15 of the last 19.
Fisher, who came up through the amateur ranks with Rory McIlroy and was the youngest-ever player to appear in the Walker Cup, is down in 152nd place on the Tour money list and needing to climb into the top 115 to keep his card for next season.
E-mail to a friend